Bullet in the Head [Die Xue jie tou] **** (1990, Tony Leung, Waise Lee, Jacky Cheung) – Classic Movie Review 5318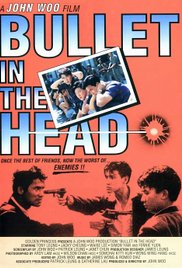 Tony Leung, Waise Lee and Jacky Cheung star as a trio from the Hong Kong slums who are forced to flee to Vietnam after a run-in with a vicious gangster. With the war raging round them, they become involved in smuggling gold. But, when captured by the Vietcong, they have to choose between murdering and being murdered.
This 1990 Hong Kong sizzler from director John Woo, one of Hong Kong's finest action directors, is among his best work, made before he coarsened his electric style for the American market with Broken Arrow (1996) and Face/Off (1997).
It is long but riveting and electrified with amazing bursts of action, and made on a grand scale.
The cut version runs 125 minutes, with the original running time at 136 minutes.
Also in the cast are Simon Yam, Fennie Yeun and Yolinda Yam.
It is produced by Golden Princess, written by John Woo, Janet Chun and Patrick Leung, shot by Wilson Chan, Ardy Lam, Wing-Hung Wong and Chai Kittikum Som, produced by John Woo and scored by Romeo Diaz and James Wong.
It was belatedly released on 17 May 1996 in the UK on the strength of Woo's US success.
Tony Leung is also known as Tony Chiu-Wai Leung.
© Derek Winnert 2017 Classic Movie Review 5318
Check out more reviews on http://derekwinnert.com