Bruce Almighty ***½ (2003, Jim Carrey, Jennifer Aniston, Morgan Freeman, Philip Baker Hall, Catherine Bell, Lisa Ann Walter, Steve Carell, Nora Dunn) – Classic Movie Review 4011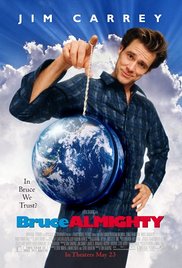 Jim Carrey is back on track in director Tom Shadyac's 2003 comedy as Bruce Nolan, a troubled Buffalo New York TV reporter who gets fired, mugged and rows with his girlfriend, Grace (Jennifer Aniston). There is only one thing left:  a meeting with God (wittily wry Morgan Freeman), who tests him out by giving him his job for a trial period.
In the fun, feel-good part of the movie, Carrey uses his new divine powers for frivolity (he gives himself six fingers and a thumb!) and revenge (on the people at the TV station). But then, boringly, he comes to see the light.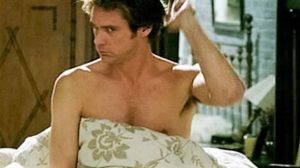 Written by Steve Oederkerk, Steve Koren and Mark O'Keefe, a great comedy idea raises a lot of big laughs, mostly thanks to Carrey's frantic, often hilarious mugging. It could have been a classic, with more funny lines, a proper part for Aniston, and none of the last half hour's mushy slop. But, overall, the movie is still an almighty crowd-pleasing winner.
Tony Bennett appears as himself. Also in the cast are Eddie Jemison, Paul Satterfield, Mark Kiely and Sally Kirkland.
© Derek Winnert 2016 Classic Movie Review 4011
Check out more reviews on http://derekwinnert.com