Brotherhood of the Wolf [Le Pacte des Loups] **** (2001, Samuel Le Bihan, Mark Dacascos, Monica Bellucci, Vincent Cassel, Emilie Dequenne) – Classic Movie Review 4003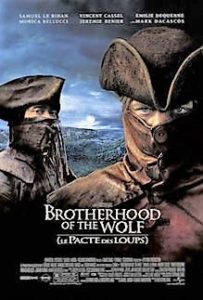 A naturalist, Chevalier Gregoire de Fronsac (Samuel Le Bihan), and his Iroquois hunter buddy Mani (Mark Dacascos) are sent to track down a beast killing folk in the 18th-century French countryside.
Co-writer/ director Christophe Gans's 2001 French chiller is smart, exciting and exquisitely crafted, with lots of high-kicking action, drama and chilling atmosphere.
With Dan Lausten's outstanding cinematography, special effects by Jim Henson's Creature Shop and production designs by Guy-Claude François, this startling looking movie is way out of the rut. Unusually for a historical action drama, it mixes extended swashbuckling fight scenes with martial arts, in the way of The Musketeer (also 2001). Maybe because of the horror genre nature of the movie, this was praised and liked here, but criticised and disliked in the classic historical adventure The Musketeer.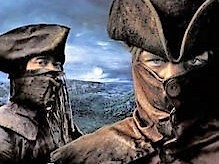 The running time is an epic 142 minutes, with director's cut running an even more epic 152 minutes.
The story in the original scenario by Stéphane Cabel is loosely based on real-life killings in France in the 18th century and the legend of the Beast of Gévaudan. It was partly shot at Château de Roquetaillade.
Also in the special cast are Monica Bellucci, Vincent Cassel, Emilie Dequenne, Jérémie Renier, Jean Yanne, Jean-François Stévinin, Jacques Perrin, Edith Scob, Johan Leysen, Bernard Farcy, Bernard Fresson, Hans Meyer, Virginie Darmon, Philippe Nahon and Eric Prat.
It tool $11,260,000 in US cinemas, making it the second highest-grossing French-language film there since 1980.
© Derek Winnert 2016 Classic Movie Review 4003
Check out more reviews on http://derekwinnert.com