Broken Lullaby **** (1932, Lionel Barrymore, Nancy Carroll, Phillips Holmes, Louise Carter, Tom Douglas, ZaSu Pitts) – Classic Movie Review 4463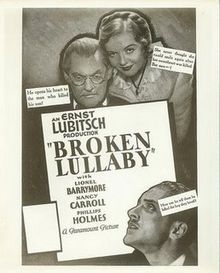 Director Ernst Lubitsch's unique 1932 serious drama is based on Maurice Rostand's play L'Homme Que J'ai Tué (The Man I Killed) about a French youth called Paul Renard (Phillips Holmes) who sets out to try to find the family of the German soldier he has killed during World War One.
He falls for the dead man's fiancée, Elsa (Nancy Carroll), and she persuades him not to reveal his guilt to the soldier's nice, kind parents Doct0r and Frau Holderlin (Lionel Barrymore, Louise Carter).
The charms of Broken Lullaby have inevitably faded, both in terms of its story and its production. Nevertheless, it is well played, passionately made, visually stylish and a still fascinating work of a master film-maker.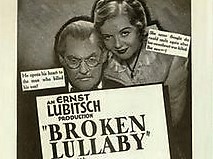 Originally called The Man I Killed, it flopped and it flopped again under the new title, sending Lubitsch back to his forte of comedy.
Also in the cast are Tom Douglas, ZaSu Pitts, Lucien Littlefield, Emma Dunn, Frank Sheridan, George Bickel, Tully Marshall, Lillian Elliott, Marvin Stephens, Joan Standing and Torben Meyer.
François Ozon tells a new version of the story in his 2016 film Frantz.
© Derek Winnert 2016 Classic Movie Review 4463
Check out more reviews on http://derekwinnert.com