Brokeback Mountain ***** (2005, Heath Ledger, Jake Gyllenhaal) – Classic Movie Review 45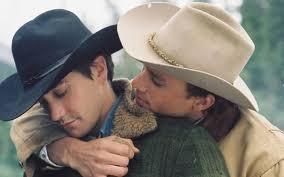 'There are places you can never go back to. There are places you'll never forget…'
A deliciously moving, overwhelmingly passionate tribute to love and friendship, and an incredibly powerful condemnation of bigotry and hatred, this is one of the cinema's great love stories. And it just happens to be a gay one. Heath Ledger and Jake Gyllenhaal are subtle and superb in it.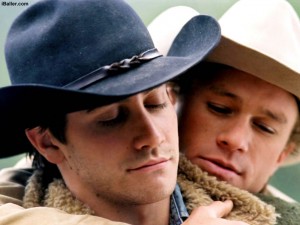 In 1963, a strong, silent Wyoming ranch hand, Ennis Del Mar (Heath Ledger), and more spontaneous rodeo cowboy, Jack Twist (Jake Gyllenhaal), find themselves alone tending Joe Aguirre (Randy Quaid)'s sheep on the harsh grasslands of Wyoming's Brokeback Mountain. There the two young men kind of surprise themselves by falling for each other.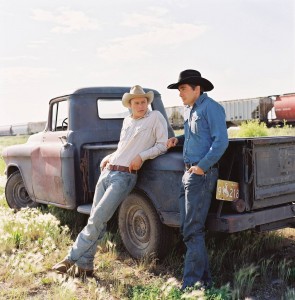 Eventually, their summer of love over, they go back to their straight lives. Joe sarcastically tells them: 'You boys sure found a way to make the time pass up there.' Ledger marries Alma (Michelle Williams) and Gyllenhaal weds Texan gal Lureen Newsome (Anne Hathaway), and both have families. But they never forget each other and after three years meet up again. And then…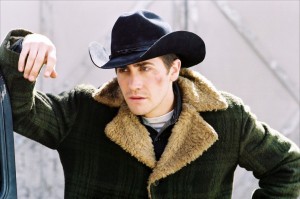 With a meticulous Oscar-winning screenplay by Larry McMurtry and Diana Ossana lovingly adapting E Annie Prouxl's 1997 short story, this beautifully done, marvellously crafted, adorable gay romance swirls along with heartstopping emotional moments set against gorgeously romantic landscapes. Arguably, it has a disappointing ending, but that's the heart and nature of the story, which has some serious issues on its mind.
Brokeback's a lovely movie. I thought I should have said it's the gay Gone with the Wind. Clark Gable and Vivien Leigh weren't right for each other but Heath and Jake are. I just wanted Brokeback to have a happy ending.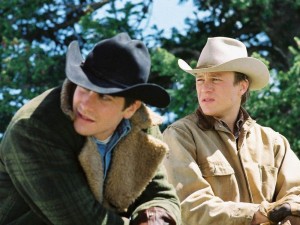 The brave star leads go to it with a will and show great emotional chemistry together. Ledger is good – very, very good indeed, but Gyllenhaal's a little scene-stealing firecracker, attracting a lot of the attention. Williams and Hathaway also produce performances to reckon with. Indeed all the acting's lovely.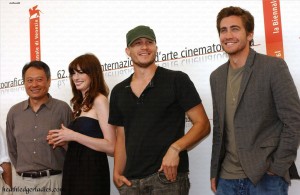 This supremely tasteful movie – unfortunately not nearly as frank as explicit as the pre-publicity had heralded – is exquisitely directed by Ang Lee. He also won an Oscar, as Best Director, working with a miniaturist's precision, and displaying, indeed revelling in, a great sense of time and place. Gustavo Santaolalla's score won the film's third Oscar, but Rodrigo Prieto's outstanding cinematography had to be content with a nomination.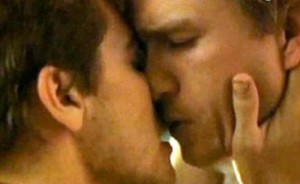 Ledger, Gyllenhaal and Williams were all Oscar nominated but didn't win; Gyllenhaal's nomination was oddly in the Best Supporting Actor supporting role category when it's a lead role, maybe arranged so that he didn't compete with Ledger.
Gyllenhaal won the Bafta award as Best Supporting Actor, and it also won Best Film, Best Adapted Screenplay and Best Direction. It was the London Critics Circle Best Film and Best Director. And it won four Golden Globes, for Best Film, Best Director, Best Screenplay, Best Original Song (Bernie Taupin and Santaolalla's 'A Love That Will Never Grow Old').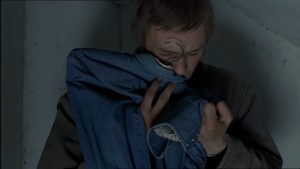 It was voted the American Film Institute Film of the Year. They said: 'The revolutionary subject matter paints a portrait of passion, longing and loss against the sweeping backdrop of the changing American West. The film is a triumph of acting – Heath Ledger and Jake Gyllenhaal bring power and poignancy to two people caught in an emotional maelstrom, without the means to understand their feelings, or the words to express them. The film is a tragic meditation on loneliness, and yet a powerful celebration of friendship and love beyond our control.'
I'd agree with all that, except for the phrase 'the revolutionary subject matter'. Given that the film is indeed  'a triumph of acting', the generally mouldy treatment of the actors at awards time is poor, but that probably reflects conservative-minded voters' absurd concern over the gay characters they're playing. And Ledger and Gyllenhaal kissing? Oh dear!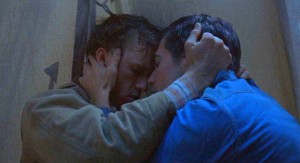 Apart from the ending, the only criticism: the makeup's a bit dodgy, especially Ledger's middle-aged wrinkles. But this is just a quibble. For, nevertheless, this is one of those rare movies that makes you want to see it again immediately and haunts your memory for weeks, maybe even years afterwards. There are movies you'll never forget…
Gyllenhaal's verdict on the story: 'I fooled around with Heath Ledger and Michelle Williams got pregnant.' And on his sexuality: 'I've never really been attracted to men sexually, but I don't think I would be afraid of it if it happened.'
By 2014, Jake Gyllenhaal has only one Oscar nomination, for Brokeback Mountain. He received a 2015 Golden Globe nomination as Best Actor for Nightcrawler, his second after Love & Other Drugs (2010).

http://derekwinnert.com/mysterious-skin-classic-film-review-160/
http://derekwinnert.com/the-dark-knight-2008-classic-film-review-847/
(C) Derek Winnert 2013 Classic Movie Review 45
Link to Derek Winnert's home page for more film reviews: http://derekwinnert.com/