Brimstone **** (2016, Guy Pearce, Dakota Fanning, Kit Harington, Carice van Houten) – Movie Review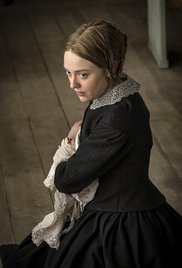 Guy Pearce (now 49) has a grand old time as The Reverend, the apparently unstoppable vengeful preacher villain of Dutch writer-director Martin Koolhoven's incredibly powerful, awe-inspiring epic 2016 Western. The movie is a real wow! So is the actor.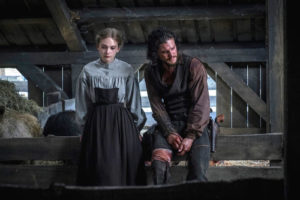 OK, it's acting, and it's a great part, but what is there about that nice Guy Pearce, hero of LA Confidential and The Adventures of Priscilla and The Time Machine, that makes him want to play such terrible characters? Oh, I know, you can play villains for ever and heroes have a time limit on their shelf life in the movies. Anyway, Pearce is stupendous, totally terrifying.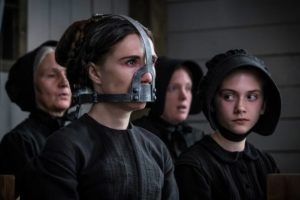 So he needs a worthy adversary, an equally fine hero, and that turns out to be the 22-year-old Dakota Fanning, who in her own quiet, actually mostly silent, way is equally impressive, exuding inner power and strength as The Reverend's intended victim Liz. As The Rev monster keeps coming after her, and her loved ones, she must summon up all her courage and bravery to survive and protect her daughter (Emilia Jones).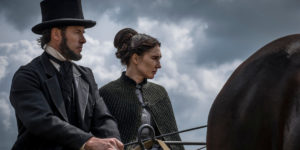 Koolhoven brilliantly conjures up the hell on earth backdrop for his story, and constructs the screenplay cleverly in interlocking sections or chapters. That idea might seem a bit arty, but the film is real clever and easy to follow, as one revelation gives way to another, stoking up the tension. The bursts of violence are really scary, graphic and gory, so I should just mention the health warning – it is rated R for brutal bloody violence, strong sexual content including disturbing behaviour, graphic nudity, and strong language.
Working out from his central character, Koolhoven gives his film a serious theme by making his story into a sweeping condemnation of religion and preachers. There are parallels with The Night of the Hunter (1955), though the heat is turned up a lot in the ensuing 60 years.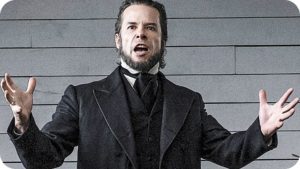 Also in the mix are Carice van Houten as Anna, Kit Harington as outlaw Samuel, Paul Anderson as Frank, Frederick Schmidt as Sheriff Zeke, Carla Juri as Elizabeth Brundy, William Houston as Eli, Jack Roth as Wolf and Bill Tangradi as Nathan. Harington's role is quite small, but splashy, though he is not particularly good or convincing as a Western character but he will do.
Filming in Europe – in Austria (Tyrol for the snow scenes), Hungary, Germany and Spain (Almeria) – they have still conjured up a great Western atmosphere and landscape. The budget was €12 million, and they have fantastic value for it. It will come up against people who don't like Westerns and those disturbed by movie violence but it should pick up a loyal band of admirers. Packing the heftiest of punches to the gut, and taking no prisoners, it is a tremendous movie. Like Free Fire (2016), it is the kind of raw movie you just know that nobody is going to get out of alive – or are they?
Fanning and Harington replaced Mia Wasikowska and Robert Pattinson.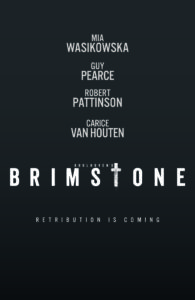 © Derek Winnert 2016 Movie Review
Check out more reviews on http://derekwinnert.com