Brigsby Bear **** (2017, Kyle Mooney, Mark Hamill, Jane Adams, Greg Kinnear, Matt Walsh, Michaela Watkins, Claire Danes, Ryan Simpkins) – Movie Review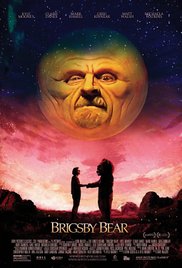 Director Dave McCary's comedy drama Brigsby Bear (2017) is sweet, charming and funny – and just a little bit haunting and sad too. This could turn out to be a very tragic story, but instead here it is a heartwarming uplifter. Either way it could have been good. And it is.
Kyle Mooney stars (and co-writes the sharp, acute script with Kevin Costello) as late 20s James Pope, who was abducted as a child and brought up by a couple (Mark Hamill, Jane Adams) he thought were his parents. The dad created the children's TV show Brigsby Bear Adventures for him, and he is hooked and obsessed.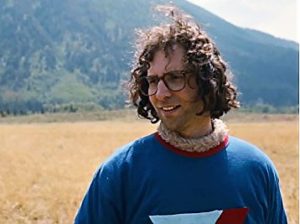 One day, he is released by kindly police Detective Vogel (Greg Kinnear) into the home of his bewildered but really nice real parents Greg and Louise Pope (Matt Walsh, Michaela Watkins), who want to get him off the Brigsby Bear stuff and onto real life track. They enlist the help of a frosty psychologist called Emily (Claire Danes) who is no help at all. But his new younger sister Aubrey (Ryan Simpkins) melts for his apparently limited, nerdy charms, introducing him to her buddies Meredith (Alexa Demie) and Spencer (Jorge Lendeborg Jr). It turns out that everyone is essentially pretty darned nice.
When James find his Brigsby show has ended with his first parents' arrest, he conceives a plan to make a movie to finish the story, with the help of kindly police Detective Vogel and the nice kids round him. The fun begins.
It kind of should not work maybe, or certainly not work this well. But, miraculously its does. The start situation is very reminiscent of Blast from the Past, but once James is free of the first parents, the story takes on its on life and character.
You would have to be a real churlish curmudgeon not to like, maybe love, this movie. But then, hey, some people didn't warm to Ingrid Goes West, which has a similar vibe. Comedy is very subjective – you like it or you don't. You think it is funny or that it isn't.
Mooney is quite expert. He looks really boring and you think he isn't going to be able to make James fascinating. But he does! He does not play it for cute, and that after a while pays off in terms of his character and the actor's likeability. Kinnear is great, and so too is Hamill. They so should have had more scenes to do.
I wanted to urge everybody to see this movie. I could bear for you to miss it.
By the way, why has this sweet and harmless film got a UK 15 certificate? OK, brief sexuality, drug material and teen partying, but so?
© Derek Winnert 2017 Movie Review 
Check out more reviews on http://derekwinnert.com