Brighton Rock *** (2010, Sam Riley, John Hurt, Andrea Riseborough, Phil Davis, Andy Serkis, Helen Mirren) – Classic Movie Review 3972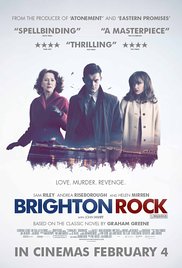 Sam Riley, from Control (2007), is ideally cast as teenage gangster Pinkie Brown, a psychotic petty hoodlum at large in post-war Brighton, in director Rowan Joffe's intriguing 2010 remake of the 1947 classic thriller Brighton Rock, based on Graham Greene's novel. This time the story is now effectively updated to the 1960s to include the background of Mods versus Rockers, and that idea works nicely.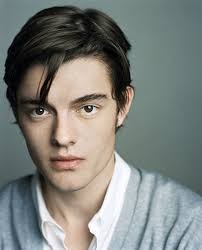 Strong, tense and realistic, this slick and atmospheric movie motors on Riley's polished, magnetic star turn and has good support from John Hurt as Phil Corkery, Phil Davis as Frank Spicer, Andrea Riseborough as waitress Rose, Sean Harris as Hale, Andy Serkis as Colleoni, Geoff Bell as Kite, Maurice Roëves as the Chief Inspector and especially Helen Mirren as Ida, the blowsy amateur detective on Pinky (Riley)'s trail.
It is a pity so little of it was actually filmed in Brighton. It shows and is a downside. But it doesn't spoil the atmosphere too much. To be honest, though, the irreplaceable 1947 film is so much better, and, even with its liberties to the novel, is far more faithful in spirit to it.
The 2010 film is good, but, unsurprisingly, it is none of the over-stated things it says on the poster, spellbinding, thrilling or a masterpiece. Riley is very good but he can't erase memories of Richard Attenborough in the original.
© Derek Winnert 2016 Classic Movie Review 3972
Check out more reviews on http://derekwinnert.com