Brief Season [Una Breve Stagione] *** (1969, Christopher Jones, Pia Degermark, Antonello Trombadori) – Classic Movie Review 4850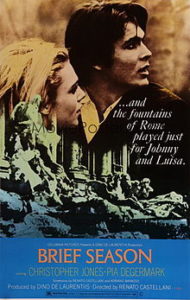 Co-writer/ director Renato Castellani's 1969 Italian film reunites Christopher Jones and Pia Degermark, the glamorous young stars of The Looking Glass War (1969), who became friends in real life and formed an off-screen relationship through working on the film together. In 1970, while making Ryan's Daughter, Jones said: 'I am being constantly being asked if Pia and I have reached a lasting love. All I'll confess today is that she's gorgeous, and I miss her enormously.'
Jones plays Johnny, a rebellious, fun-loving young American, who works as a stockbroker in Rome where he meet and falls in love with a Swedish girl Luisa (Degermark), who works as a simultaneous translator at the United Nations Food and Agriculture Organization, in this cute-looking Swinging Sixties Italian romantic drama. Johnny sells some securities to speculate on the stock market based on some confidential information in an attempt to secure a future for himself and Luisa.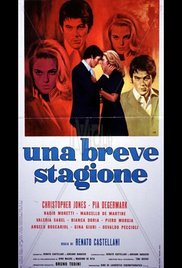 It is a sweet movie, nicely filmed by Castellani, with fine cinematography by Antonio Secchi and a notable score by Ennio Moricone, and the handsome leads are very appealing.
Also in the cast are Antonello Trombadori as Luisa's father, Angelo Boscariol, Valeria Sabel, Bianca Doria, Piero Morgia, Marcello di Martire, Gina Giuri and Osvaldo Peccioli.
It is co-written by Arduino Maiuri and produced by Dino De Laurentiis.
Jones is also the star of an interesting bunch of movies including The Looking Glass War (1969), Wild in the Streets (1968), Ryan's Daughter (1970), Chubasco (1967) and Three in the Attic (1968).
© Derek Winnert 2017 Classic Movie Review 4850
Check out more reviews on http://derekwinnert.com