Bride of Chucky *** (1998, Jennifer Tilly, Alexis Arquette, Katherine Heigl, Nick Stabile, John Ritte, Kathy Najimy, voice Brad Dourif)) – Classic Movie Review 1182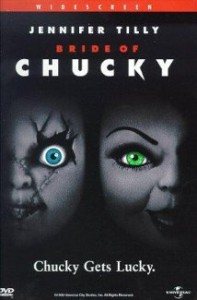 Director Ronny Wu's 1998 horror movie raised more than a few eyebrows in what is Child's Play 4 in all but name. But Jennifer Tilly gives an infectiously game and entertaining performance as the killer's mistress Tiff, who gets to kiss – and make love with – the repellent demon doll Chucky (voice of Brad Dourif).
She brings Chucky back to life with a spell from the book Voodoo for Dummies, but sadly lasts only 20 minutes of the movie before she's killed by electrocution and her soul is transferred into a murderous female bride doll, Tiffany, who becomes Chucky's lover.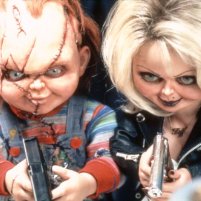 It's sick, deliberately offensive stuff – and obviously pretty dodgy after the series' connection with the Bulger case – but there's no denying that it is done with great gusto, relish and even wit. The vocal performances of Tilly and Dourif are quite something.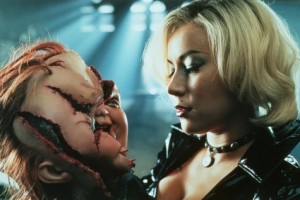 Don Mancini manages an expert screenplay and Wu directs skilfully. In a good cast, Alexis Arquette, Katherine Heigl, Nick Stabile, John Ritter (as police Chief Warren Kincaid), Gordon Michael Woolvett and Kathy Najimy co-star.
After two terrible Child's Play sequel films, this third one comes up trumps. But keep it away from the kids!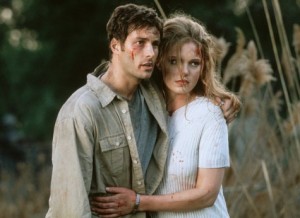 Tilly said: 'I'd never seen any of the other Chucky films, and, when it was proposed to me, I was like, a horror film? Isn't that what I did on the way down?'
Tilly returned for the 2004 sequel, Seed of Chucky, with Brad Dourif again the voice of Chucky.
Don Mancini  has written or co-written every movie in the Child's Play series.
Child's Play started back in 1988.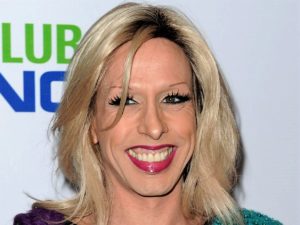 Actress and transgender rights activist Alexis Arquette died peacefully surrounded by her family on aged 47.
© Derek Winnert 2014 Classic Film Review 1182
Link to Derek Winnert's home page for more film reviews: http://derekwinnert.com/