Breakfast with Jonny Wilkinson *** (2013, Michael Beckley, Beth Cordingly, Chris England, Norman Pace, George MacKay) – Movie Review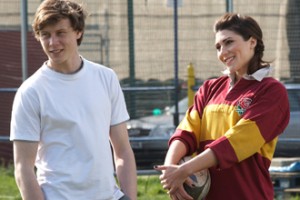 Director Simon Sprackling's good-natured 2013 comedy returns to a golden morning in 2003 when a faithful few have gathered in the morning at a Home Counties rugby club bar to watch the TV relay of what turns out to be England's victory in the Rugby World Cup Final in Australia. Oddly, there are only seven people, for reasons we will get to find out. A plot is afoot.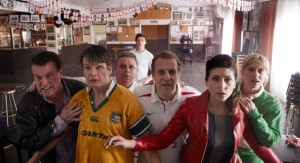 This promising idea for a comedy is unfortunately made to run like an old-style TV sitcom, with broad sitcom performances that spoil it. However, there are two good performances among the mediocre. First, surprisingly, from comic Norman Pace as Greyhawks Rugby Club chairman Dave, whose club  is under threat from land developers and finds his position as is being challenged by a loud and obnoxious Australian, Matt (Michael Beckley). Pace manages humour, laughs, pathos and also manages to build, sustain and develop a credible, sympathetic character.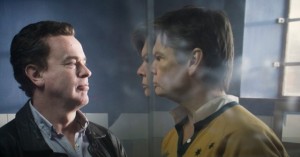 The second good performance is from the effortlessly likeable young George MacKay, who gets away with it with a light, easy-going touch as Jake, the first team prodigy who leaves the club room every time Jonny Wilkinson takes a kick so he can match it with his own winner. He is willing Johnny to win, and he has got some kind of psychic or karmic link to Johnny.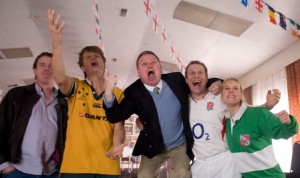 Based on a stage play, the film can't escape its creaky stage roots, and the script needs to be funnier and wittier. And the acting needs a lot of honing. Beckley seems like such a phony Aussie that it's a shock to discover he graduated from Australia's National Institute of Dramatic Art and was in Home and Away. Writer Chris England gives himself a key role as Bill Exley, but on this form he should probably stick to the day job of gag writing.
Still, Pace and MacKay are sparky and engaging, making up for a lot.
© Derek Winnert 2013 Movie Review
Check out more reviews on http://derekwinnert