Born to Be Bad *** (1950, Joan Fontaine, Robert Ryan, Zachary Scott, Joan Leslie, Mel Ferrer) – Classic Movie Review 4795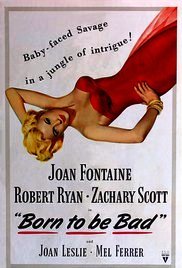 'Baby-faced Savage in a jungle of intrigue!' Ah yes, with her oh-so-sweet exterior, perhaps you would think that butter wouldn't melt in Christabel's mouth, maybe. But, really, Joan Fontaine's character here is an icy cold, calculating woman who gets what she wants by manipulating all and sundry around her.
Those Christabel fools include her cousin Donna (Joan Leslie) and Donna's millionaire fiancé Curtis (Zachary Scott), whom she ensnares into marriage for his money while she carries on with rugged upcoming writer Nick (Robert Ryan), the only one who sees through her.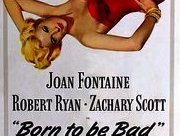 Director Nicholas Ray tries hard to give this then fashionable 1950 romantic hokum a backbone of believability, and Nicholas Musuraca's noir black and white cinematography helps in that direction. Fontaine, fondly remembered for her sweet roles in Rebecca, Jane Eyre, and Suspicion), is successfully cast against type and radiates chilling beauty here as the 'cross between Lucrezia Borgia and Peg o' My Heart'.
The screenplay by Edith Sommer is based on Anne Parrish's novel All Kneeling. You kind of see how that wouldn't work as a movie title. So they borrowed one already used in 1934 for a film with Loretta Young and Cary Grant. Robert Soderberg and George Oppenheimer are credited for additional dialogue, with Charles Schnee for adaptation.
Also in the cast are Mel Ferrer, Virginia Farmer, Kathleen Howard, Dick Ryan, Bess Flowers, Joy Hallward, Hazel Boyne, Irving Bacon and Gordon Oliver.
Here's an extraordinary piece of trivia. Curtis's plane is a 1950 Beechcraft B35 Bonanza, first produced in 1947 and still being made in 2016. It has been in production longer than any aircraft in history with more than 17,000 of all variations having been made.
© Derek Winnert 2016 Classic Movie Review 4795
Link to home page for more reviews derekwinnert.com