Boots! Boots! ** (1934, George Formby, Beryl Formby, Arthur Kingsley, Tonie Forde, Lillian Keyes) – Classic Movie Review 4830
Director Bert Tracy's 1934 British musical comedy features George Formby in his film debut, aged 28, as a busy hotel's inept singing shoeshine man called John Willie.
Formby's real-life wife and Svengali, Beryl Formby, co-stars as Snooky the scullery maid in a silly mix of songs and jokes, written by George Formby and Jack Cottrell, in which love blooms between John and Snooky when he plays his little ukulele and she dances to entertain the hotel guests.
Also in the cast are Arthur Kingsley as the hotel manager, Tonie Forde as the chambermaid Marie, Lilian Keyes, Donald Read, Constance Fletcher, Wallace Bosco and Betty Driver.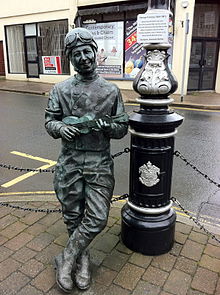 Produced by John E Blakeley, the movie is as cheap as it is cheerful. It was made by Blakeley's Productions (later Mancunian Films) and shot at the ultra modest Albany Studios in London and premiered in Burslem, Stoke-on-Trent, England. Though he had no film production experience, Blakeley asked Formby to star in a film after seeing him on stage.
The studio was a one-room loft space above a taxi garage. Its makeshift stage had no soundproofing so the crew had to signal the garage to stop work below to go for a take. The studio only had tiny simple room interior sets, so scenes were staged in cramped corners and the nightclub scenes filmed in near-darkness, with one spotlight on the performer.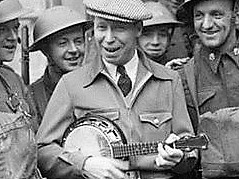 Despite the basic photography by James S Hodgson and crude sound recording by Vaughan C Sawyer, and the micro budget of £3000, it was a big hit, sparking Formby's film successful film career. It was reissued cut to 55 minutes in 1938 to cash in on Formby's success in his bigger-budget ATP films, but finally an uncut 80-minute print was discovered and restored for DVD release. For long a story circulated that a jealous Beryl Formby cut Betty Driver's song out of the film, but it was only edited out for time in the much shortened re-release.
The bumbling character of John Willie was originally made famous by Formby's father, George Formby Sr, in the English music halls of the early 1900s.
The musical director is Harry Hudson.
© Derek Winnert 2016 Classic Movie Review 4830
Check out more reviews on http://derekwinnert.com