Boomerang! ***** (1947, Dana Andrews, Jane Wyatt, Lee J Cobb, Karl Malden, Arthur Kennedy) – Classic Movie Review 4831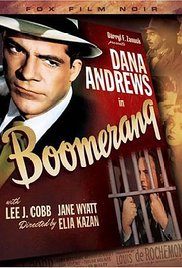 Director Elia Kazan's stupendous 1947 real-life American crime film noir thriller tells the riveting, realistic true tale of a State's attorney (Dana Andrews) who sets out to discover the truth after he decides he does not believe the State's case when a vagrant (Arthur Kennedy) is too quickly arrested for an elderly priest's gun murder in Bridgeport, Connecticut.
The film is supremely acted, especially by Andrews as the upright State's Attorney Henry L Harvey who defends the accused vagrant John Waldron (Kennedy), Lee J Cobb as the cynical police chief Chief Harold F 'Robbie' Robinson and Sam Levene as an old-time reporter, Dave Woods of the Morning Record.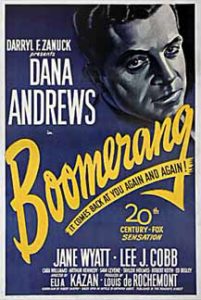 It is particularly skilfully directed by Kazan and photographed by Norbert Brodine in the then pioneering realist fashion in fresh, small-town locations, though it is actually not made in Bridgeport but the similar-looking Connecticut town of Stamford, whose citizens provide the extra roles. It worked out well after Kazan was refused permission to film in Bridgeport. The courtroom scene was shot in White Plains, New York.
Richard Murphy's exceptionally tense, taut and tight Oscar-nominated screenplay is based on Fulton Oursler's newspaper article The Perfect Case published in The Reader's Digest December 1945. Writer Oursler was credited as Anthony Abbot.
The movie is a success in itself, but it also proved a widely influential, key US film in helping to change the nature of American film-making by dragging cameras out of the studios and onto the streets.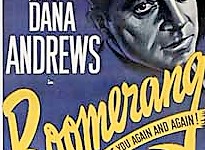 It runs a brisk, fast-moving 88 minutes, packing lots into a brief running time, is shot in black and white, released by 20th Century Fox, produced by Darryl F Zanuck and Louis de Rochemont and scored by David Buttolph.
It stars Dana Andrews, Lee J. Cobb, Karl Malden, Arthur Kennedy, Jane Wyatt, Cara Williams and Sam Levene.
Also in the cast are Taylor Holmes, Robert Keith, Ed Begley, Philip Coolidge, Richard Garrick, Wyrley Birch, Lewis Leverett, Barry Kelley and Lester Lonnigan. The semi-documentary film also contains voice-overs by Reed Hadley.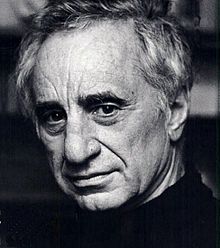 Kazan made films concerned with personal or social issues but testified before the House Committee on Un-American Activities in 1952 at the time of the Hollywood blacklist, helping to end the careers of former acting colleagues Morris Carnovsky and Art Smith, and the work of playwright Clifford Odets. He directed A Streetcar Named Desire (1951), On the Waterfront (1954), and East of Eden (1955), won two Best Director Oscars, an Honorary Oscar, three Tony Awards and four Golden Globes.
© Derek Winnert 2016 Classic Movie Review 4831
Check out more reviews on http://derekwinnert.com