Boom Town *** (1940, Clark Gable, Spencer Tracy, Claudette Colbert, Hedy Lamarr) – Classic Movie Review 5473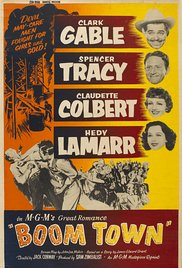 The MGM studio sent in its big star guns for producer Sam Zimbalist's rousing and entertaining 1940 romantic adventure tale of oil-drilling folk.
Clark Gable and Spencer Tracy play Big John McMasters and Square John Sand, wildcatter brawling buddies getting rich as oil tycoons with the backing of old financial wizard Luther Aldrich (Frank Morgan), while there are the usual romantic complications you would expect with Claudette Colbert and Hedy Lamarr as Betsy Bartlett and Karen Vanmeer.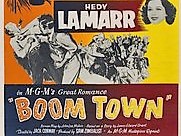 Also in the mix of John Lee Mahin's lively if sometimes a little slack screenplay, there are lots of clichés, gushers, Wall Street trickery, and the odd laugh.
The vintage but not quite classic movie is not quite in the first rank, but it is always enjoyable, exciting and fun. And Jack Conway directs manfully, taking it all in his masterly stride.
Also in the cast are Lionel Atwill, Chill Wills, Minna Gombell, Marion Martin, Joe Yule, Horace Murphy, Richard Lane and Sara Haden.
Gable and Colbert of course starred together in the real classic It Happened One Night (1934).
© Derek Winnert 2017 Classic Movie Review 5473
Check out more reviews on http://derekwinnert.com