Bonjour Tristesse **** (1958, Jean Seberg, David Niven, Deborah Kerr, Mylène Demongeot, Juliette Gréco, Martita Hunt) – Classic Movie Review 181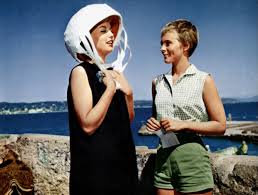 I'm afraid this 1958 curio isn't quite the 'lost masterpiece' you might be looking for but it is still an extremely interesting and entertaining minor work from the great director Otto Preminger, a man with such an ego that he picked only the theme music from all his own movies when he appeared on radio's Desert Island Discs.
Tomboyish Fifties icon Jean Seberg is third billed but the main star. The story's all about her. She looks incredibly striking and highly individual and, as the movie goes along, gives an increasingly confident and compelling performance as a precocious 17-year-old Paris girl called Cecile, the daughter of a happy-go-lucky, love-'em-and-leave-'em middle-aged playboy Raymond (David Niven).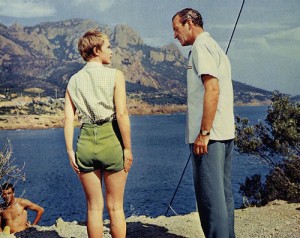 They enjoy an extremely close relationship, with the girl calling him by his first name and saying to him 'amour', 'cheri' and such. They kiss, caress and touch each other a lot. On the surface, this intense relationship all seems very innocent but there's an unnatural feeling somewhere, everywhere there. They can't properly love anyone else because they secretly love one another. If anyone comes between them they'll be treated badly or it could even be fatal. It's this theme that gives the film a surprisingly modern feel and rivets the attention.
After Saul Bass's typical credits (a bit muted for him), the film starts in a dreary, black-and-white photographed Paris, with a much sadder and wiser (hey it's called Bonjour Tristesse!) recalling their extended vacation visit to their seaside villa in the south of France last summer.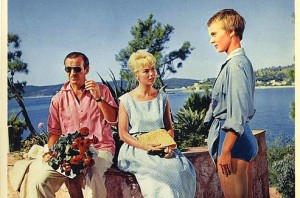 There, Niven has installed the young, lovely and vivacious Elsa (Mylène Demongeot), his current flame, while Seberg enjoys frittering away her time rather aimlessly, pointlessly and innocently with various nice-looking local boys, one of whom gets a bit serious with her. But the point is, Niven and Seberg are both really enjoying themselves and whatever's French for La Dolce Vita. They're intelligent, but simple-minded sybarites (seekers of pleasure and luxury).
Into this situation comes the starchy, quite frosty and controlly Anne Larson (Deborah Kerr), a surrogate mother, who announces her arrival the following week by telegram. Niven's so laissez-faire, he's even forgotten the invite. Kerr's upset to find Demongeot's Elsa installed in the villa, but decides to stay on anyway, and plots to get rid of her. She starts to get her claws into Niven, they decide to marry, and Seberg plots to get rid of Kerr, with the help of her casual boyfriend Philippe (Geoffrey Horne) and Demongeot, who pretend to be in love so Niven gets jealous and takes Demongeot back.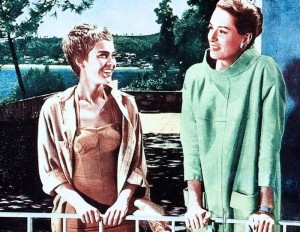 Not bad as a plot, it filled the pages of Françoise Sagan's once-famous, now little-read novel quite nicely. The novel captured the zeitgeist, a tiny little bit of the spirit of the time, with its infuriating, but undeniably feminist teen heroine kicking against the pricks, its beat age era and its alluring South of France background.
It's easy to view the heroine just as a malicious teenager but that's not at all what Sagan's getting at. She's the quintessential crazy, mixed-up kid of the 50s, the female alter ego of Holden Caulfield in Catcher in the Rye, and just as destructive and self-destructive. These characters are going to take everyone down with them on their way to eventual adulthood and maturity – if they can get there.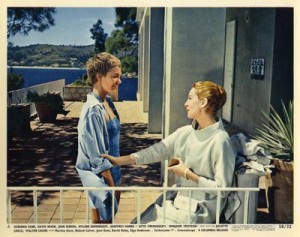 If the story and its themes are 'modern', the performances have stayed 'modern' too and there's plenty of style in the playing of the whole ensemble. Seberg is memorable. She's deliciously odd, offbeat and quirky, but intense and compelling, and it's easy to see why she's a bit of an icon now.
Relishing acting up to his screen image, Niven's ideal in a role he's perfect for. Kerr (top billed, though with the least to do of the three stars) is particularly effective in the most difficult, unrewarding of the parts. She's quite subtle in her extended use of a full range of sneery expressions and ironic utterings in a portrait of a lady who cares but covers it in a layer of ice. Demongeot's very good indeed, extremely attractive and funny, with a good touch on the comedy.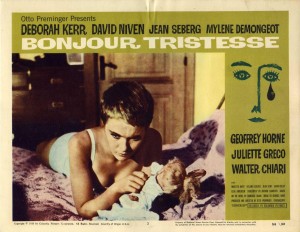 Another icon of the age, Juliette Gréco, appears memorably, trilling the title song. It's not much of a song and nothing of a role, but it's essential for the film's success anyway. No one else has much to do: Martita Hunt's briefly very amusing, but Walter Chiari, Jean Kent and Roland Culver are wasted.
The movie also looks 'modern' in Georges Périnal's marvellous scope cinematography, now restored to its former glory in a sparkling new 4K restoration by Grover Crisp, the maestro behind the Lawrence of Arabia revival. The luscious Riviera settings are beautifully photographed in glorious Technicolor, with the Paris scenes in a contrastingly dull black and white. Mimicking The Wizard of Oz, it's a bit of an obvious device but it's OK, it works.

It helps that there's considerable venom and wit in Arthur (West Side Story) Laurents's script (I'm guessing more Laurents and Preminger than Sagan), way enough to go round for 94 minutes. And, as expected, there's plenty of intensity and bite in Preminger's commanding direction, which is subtle, cool, eagle-eyed and open-minded, leaving you to make the judgements. (Showing his versatility, Preminger made Anatomy of a Murder the year after this.)
No one would make a film like this today, especially with Anglo-American actors playing French characters without an Inspector Clouseau accent. I guess there'd be no audience for it, but maybe they should.
http://derekwinnert.com/anatomy-of-a-murder-classic-film-review-59/
© Derek Winnert 2013 Classic Movie Review 181
Check out more reviews on http://derekwinnert.com