Bluebeard's Eighth Wife *** (1938, Claudette Colbert, Gary Cooper, David Niven, Edward Everett Horton) – Classic Movie Review 5472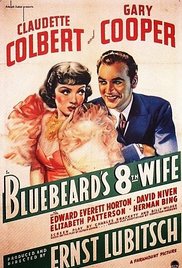 The vintage Alfred Savior play is dusted off in 1938 for Claudette Colbert as Nicole De Loiselle, the daughter of a poor French marquis (Edward Everett Horton), who wants to show her much-married American multi-millionaire husband Michael Brandon (Gary Cooper) a few tricks. Nicole is Bluebeard's Eighth Wife, and she feels she needs to tame him so there's no Ninth Wife.
This 1938 screwball romantic comedy is perhaps not quite as good as could be expected with these players and producer-director Ernst Lubitsch at the helm. But it is still very nimbly and niftily played, often amusingly written and overall a pretty enjoyable screwball farce. However probably nothing in the film can top the famous opening sequence with Cooper buying pyjama tops and Colbert only the bottoms.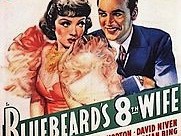 Also in the cast are David Niven, Elizabeth Patterson, Herman Bing, Charles Halton, Warren Hymer, Franklin Pangborn, Rolfe Sedan, Lionel Pape and Barlowe Borland.
It is notable as the first collaboration of writers Charles Brackett and Billy Wilder.
© Derek Winnert 2017 Classic Movie Review 5472
Check out more reviews on http://derekwinnert.com