Blue Thunder **** (1983, Roy Scheider, Candy Clark, Warren Oates, Malcolm McDowell, Daniel Stern) – Classic Movie Review 6044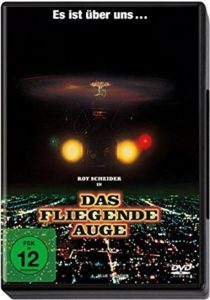 Director John Badham's riveting 1983 action adventure thriller provides a great showcase for the talents of Roy Scheider.
The always underrated and undervalued actor grabs one of his best Eighties opportunities as  Los Angeles Police pilot Frank Murphy, a Vietnam veteran turned cop, hit by trauma blackouts, who test-pilots and steals the Thunder,  an experimental sophisticated, gadget-packed, James Bond-style police helicopter.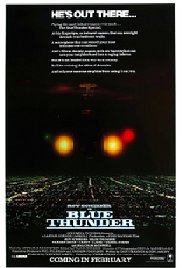 Blue Thunder is high-flying action entertainment, with a strong star, invaluable energetic support from Warren Oates as Captain Jack Braddock, Candy Clark, Daniel Stern and especially Malcolm McDowell as a juicy bad guy, called Colonel Cochrane), exciting action sequences and excellent aerial photography. There are great stunts and special effects too.
It is Oates's last film, dead of a heart attack at 53. Also in the cast are Paul Roebling, Joe Santos, David Sheiner, Ed Berhard, Jason Bernard and Mario Machado, Pat McNamara, James Murtaugh and Jack Murdock.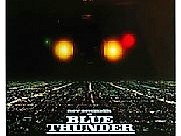 The writers are Dan O'Bannon and Don Jakoby. It is shot in widescreen by John A Alonzo, produced by Gordon Carroll and scored by Arthur B Rubenstein
It was a hit, costing $22 million and grossing $42 million in the US. A brief 11-episode one-season TV series followed in 1984 with James Farentino and Dana Carvey.
The film's Blue Thunder is a Gazelle helicopter converted to make it look big and menacing.
© Derek Winnert 2017 Classic Movie Review 6044
Check out more reviews on http://derekwinnert.com