Blue Steel ** (1989, Jamie Lee Curtis, Ron Silver, Clancy Brown, Elizabeth Peña, Louise Fletcher, Philip Bosco, Kevin Dunn, Richard Jenkins) – Classic Movie Review 6040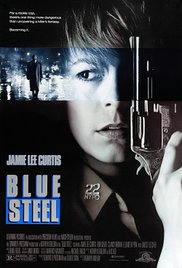 Jamie Lee Curtis gives one of her most captivating performances as a tough rookie cop in co-writer/ director Kathryn Bigelow's powerful 1989 action crime thriller.
NYPD officer Megan Turner (Curtis) falls in love with the smooth murder suspect Eugene Hunt (played by Ron Silver), a Wall Street broker. He has stolen a dead man's gun from a crime scene, using it to commit random murders, implicating Curtis.
The opening robbery sequence (which ends in Curtis suspended for killing an unarmed suspect) is electrifying, and the movie proceeds well thereafter. But, about half way in to the film, as Curtis and Silver's characters start a deadly game of cat and mouse, the tale loses all grip on reality. And Kathryn Bigelow's eye-catchingly stylish direction cannot plug the plausibility gap.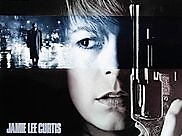 Once the story has lost its cool, the film spirals into shock-a-minute nonsense. However, on this movie story phony level, it remains watchable and exciting.
It co-stars Clancy Brown, Elizabeth Pena [Peña], Louise Fletcher, Philip Bosco, Kevin Dunn, Richard Jenkins and Tom Sizemore.
It is written by Bigelow and Eric Red (who worked together on 1987's Near Dark), shot by Amir Mokri, produced by Edward R Pressman, Oliver Stone and Michael Rausely, scored by Brad Fiedel and designed by Tony Corbett.
© Derek Winnert 2017 Classic Movie Review 6040
Check out more reviews on http://derekwinnert.com