Blue Skies ***½ (1946, Fred Astaire, Bing Crosby, Joan Caulfield) – Classic Movie Review 4365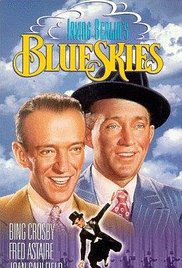 Fred Astaire and Bing Crosby both pursue Joan Caulfield in Paramount's likeable, if run-of-the-mill 1946 backstage musical, lifted up high by 22 Irving Berlin songs. Everyone who loves vintage musicals will be in seventh heaven when Astaire astoundingly taps out Puttin' on the Ritz, Crosby croons the iconic White Christmas, and the duo memorably perform A Couple of Song and Dance Men.
Berlin also came up with the idea for the creaky love triangle storyline about a chorus girl called Mary (Caulfield) who weds and divorces nightclub boss Johnny (Crosby), then breaks her engagement to dancer Jed (Astaire). So what if co-star Caulfield is a trifle dull as the showgirl who comes between the two men, and that the whole shakily constructed movie doesn't really amount to the sum of its superlative parts? It's a good show anyway.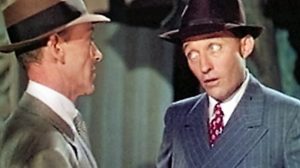 Blue Skies provided effervescent Forties escapism for audiences just after World War Two just when they needed it most, and it is still entertaining now. It is just crammed with the cream of Berlin's song list, including (of course) Blue Skies, 'You'd Be Surprised', All by Myself, A Pretty Girl Is Like a Melody, How Deep Is the Ocean?, Heat Wave and 'You Keep Coming Back Like a Song', while naturally Fred and Bing are simply the classiest and the best – and they show it here.  It was Paramount's biggest hit of 1946.
Stuart Heisler took over the direction on Mark Sandrich's sudden death of a heart attack.
Also in the cast are Billy DeWolfe, Olga San Juan, Robert Benchley, Frank Faylen, Victoria Horne, Jack Norton, Mikhail Rasumny and Karolyn Grimes.
It's the second time White Christmas is used in a film.
When Astaire announced he was retiring after this film, New York's Paramount Theater got together a petition of 10,000 names to reconsider retirement, which he did when Gene Kelly broke an ankle filming Easter Parade (1948).
© Derek Winnert 2016 Classic Movie Review 4365
Check out more reviews on http://derekwinnert.com