Blow Out **** (1981, John Travolta, Nancy Allen, John Lithgow, Dennis Franz, John McMartin, John Aquino) – Classic Movie Review 1283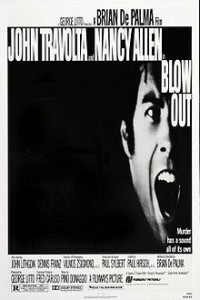 Writer-director Brian De Palma's stupendous, stylish, artful 1981 suspense thriller stars John Travolta as Jack Terry, a movie sound effects wizard from Philadelphia who by chance records a car crash that's really a political shooting.
While recording sounds for a low-budget slasher film, the technician accidentally captures audio evidence of an assassination involving a presidential hopeful, with the sound of a tyre blow out turning out to be the crucial gunshot. Nancy Allen also stars as Sally Bedina, the young woman whom Jack rescues during the crime. John Lithgow, Dennis Franz, John McMartin and John Aquino also co-star.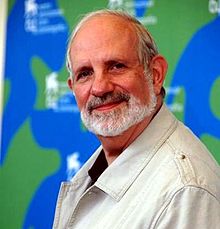 A nightmare story that has echoes of the Chappaquiddick accident involving Edward Kennedy works a treat in De Palma's own expert screenplay, with Travolta's particularly intense, compelling and charismatic star performance and bravura, ultra-stylish handling by De Palma, who comes up with some of his best sequences and set pieces.
There's a madly ascending spiral of well-staged twists and shocks, frequent movie-mad references to the work of Alfred Hitchcock and especially to Michelangelo Antonioni's 1966 classic Blow-Up, and even a playful hint of self-parody. De Palma manages them all gracefully and seemingly effortlessly. The film is a direct descendant of Blow-Up, substituting that movie's scrutiny of the medium of photography for audio recording.
Blow Out is classy, excellent, intelligent, edge-of-seat entertainment, especially aimed at film buffs who share De Palma's own tastes and concerns. De Palma clearly figures he can't go wrong if he employs three of the best technicians in the world – cinematographer Vilmos Zsigmond, musician Pino Donaggio and set designer Paul Sylbert. And he's right: it's a splendid production.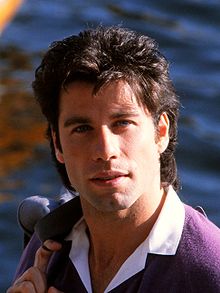 Around 70 per cent of the film was shot at night in De Palma's home town of Philadelphia. Zsigmond says: 'I just shot Blow Out straight by not diffusing and not flashing as much. That doesn't mean I necessarily like that look but I think it was good for the picture. I like a softer look, a more diffused look.'
During the editing, two reels of footage from the Liberty Parade sequence were stolen and never recovered. The scenes were reshot with $750,000 insurance money. With Zsigmond unavailable, László Kovács reshot the sequences.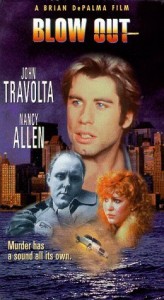 It cost $18million to make and market, and only took back $12million at the box office, despite strong reviews in its favour. Its reputation has grown considerably over the years. It is one of Quentin Tarantino's three all-time most favourite movies (with Rio Bravo and Taxi Driver), and the one that persuaded him to cast Travolta in his comeback movie, Pulp Fiction.
Travolta and Allen were both in De Palma's film Carrie (1976). He's also the maker of Scarface, The Untouchables, Carlito's Way and Mission: Impossible (1996).
http://derekwinnert.com/carrie-classic-film-review-302/
http://derekwinnert.com/the-untouchables-1987-kevin-costner-sean-connery-andy-garcia-robert-de-niro-classic-film-review-1236/
http://derekwinnert.com/scarface-classic-film-review-51/
http://derekwinnert.com/carlitos-way-1993-al-pacino-sean-penn-classic-movie-review-1237/
© Derek Winnert 2014 Classic Movie Review 1283
Link to Derek Winnert's home page for more film reviews: http://derekwinnert.com/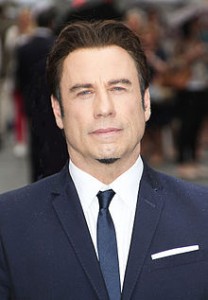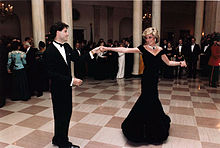 Travolta dancing with Diana, Princess of Wales, at the White House, November 9, 1985. She is wearing her Travolta dress.