Blood Bath * (1966, William Campbell, Linda Saunders, Marissa Mathes, Sid Haig) – Classic Movie Review 4845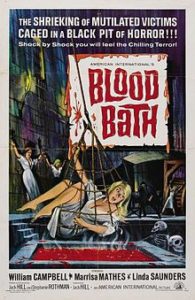 'A new HIGH in BLOOD-CHILLING HORROR!' Writer-directors Jack Hill and Stephanie Rothman's 1966 horror film stars William Campbell, Linda [Lori] Saunders, Marissa Mathes, and Sid Haig as Abdul the Arab. This much-troubled Roger Corman produced effort started as a Yugoslavia-made spy thriller called Operation: Titian and was passed to Hill to make a horror film based on its footage but a dissatisfied Corman hired Rothman to film additional sequences.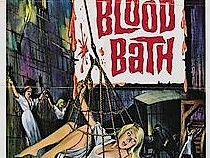 Campbell stars as Antonio Sordi, a delusional artist in Venice Beach, California, who believes he is the reincarnation of a vampire. He kidnaps local young women for his art pieces, dipping them in hot wax, and believes to have found his reincarnated mistress in an avant-garde ballerina.
It also features Biff Elliot, Sandra Knight, Karl Schanzer as Max the artist and Jonathan Haze and Fred Thompson as beatniks.
It was released by American International Pictures in a double bill with Queen of Blood.
It runs 
In May 2016, the film was released on Blu-ray with all four versions of the film restored from the original negatives: the original Operation: Titian; Jack Hill's original Blood Bath; Blood Bath featuring Stephanie Rothman's re-shoots; and Track of the Vampire.
© Derek Winnert 2017 Classic Movie Review 4845
Check out more reviews on http://derekwinnert.com