Blood and Roses [Et Mourir de Plaisir] *** (1960, Mel Ferrer, Elsa Martinelli, Annette Stroyberg) – Classic Movie Review 3514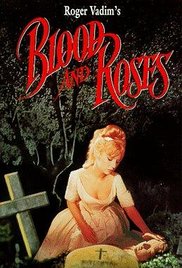 Co-writer/director Roger Vadim's atmospheric 1960 French romantic horror movie is based on Sheridan Le Fanu's famous novella Carmilla. It tells the story of a young woman who is spurred to murder by her family's vampirism, a story that is now much more familiar in the movies from Carl Dreyer's 1932 Vampyr and Hammer's The Vampire Lovers (1970).
In the original screen story here by Claude Brulé and Claude Martin, jealous of her friend's engagement, Carmilla is led to the tomb of a female vampire, who possesses her and leads her to kill and terrorise the inhabitants of the estate.
This version, directed with some relish and charm but perhaps not quite sufficient brio by Vadim, is on the mild side and not quite stylish enough, which is surprising considering the colourful material and Vadim's usual style film-making.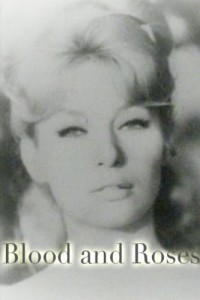 Nevertheless, Vadim is to be commended for the delicately way he explores the vampire love story between two girls who lived and loved until parted by death. Also the movie does look striking in Claude Renoir's Technicolor cinematography (with the dream sequence in black and white), and there is a fine production at Cinecittà Studios in Rome, while Mel Ferrer, Elsa Martinelli and Annette Vadim [Stroyberg], are acceptable stars as Count Leopoldo De Karnstein, Georgia Monteverdi and Carmilla.
Also in the cast are Marc Allégret, Alberto Bonucci, Serge Marquand, René-Jean Chauffard, Gabriella Farinon, Edith Peters, Nathalie Lafaurie, Carmilla Stroyberg and Jacques-René.
Roger Vailland writes the screenplay with Vadim.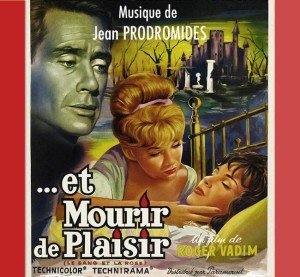 Christopher Lee was originally considered for Count Karnstein but the part eventually went to his friend Ferrer. But Lee did play Count Ludwig Karnstein in another film of Le Fanu's Carmilla, Crypt of the Vampire (1964).
Watch closely as the bloodstain on Carmilla's dress moves from the right to the left side, then back to the right.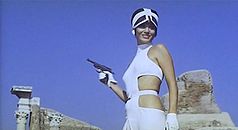 Elsa Martinelli died on July 8 2017 in Rome at the age of 82.
© Derek Winnert 2016 Classic Movie Review 3514
Link to Derek Winnert's home page for more reviews: http://derekwinnert.com/