Bitter Moon ** (1992, Hugh Grant, Kristin Scott Thomas, Emmanuelle Seigner, Peter Coyote) – Classic Movie Review 6682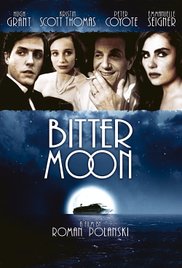 For his 1992 romantic thriller drama Bitter Moon, co-writer/ producer/ director Roman Polanski looks at modern marriage and comes up with a very old shaggy dog story. Aboard a ship to Istanbul on their way to India, a soppy upper-class English couple called Nigel and Fiona Dobson (Hugh Grant and Kristin Scott Thomas) meet a paralysed American man Oscar (Peter Coyote) in a wheelchair and his sexy young wife Mimi (Emmanuelle Seigner).
Grant's character Nigel fancies Seigner's Mimi, who gives him the come-on, but before anything else he must listen to Coyote's eccentric paraplegic Oscar's continual flashback tales of how he originally met her.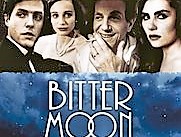 Polanski gets a lot of mileage out of sending up the English couple – and Grant is very funny. But Polanski makes heavy weather of the serious meat of the film, a delineation of a perverse sexual relationship and a sado-masochistic affair. The film is just too long at 139 minutes and starts to drag. However, the four principals do well under the circumstances, even if Coyote strikes some wrong notes with the sometimes uneasy and duff dialogue.
Based on the 1981 novel Lunes de fiel [Faithful Monday] by Pascal Bruckner, it is not a very likeable or credible movie, and ultimately it seems just modishly pointless, though there are eye-catching things are the way. Lunes de fiel is Spanish for Faithful Monday and is a play on words with Lune de miel, the French word for honeymoon.
Also in the cast are Victor Bannerjee, Sophie Patel, Luca Vellani, Boris Bergman and Patrick Albenque.
It is written by Roman Polanski, Gérard Brach, John Brownjohn and Jeff Gross, shot by Tonino Delli Colli, produced by Roman Polanski and Timothy Burrill, scored by Vangelis, and choreographed by Redha, with special effects by Jean-Louis Trinquier.
It was low cost at $5,000,000, but grossed only $1,862,800 in the US>
International cover-model Seigner met Polanski, who gave her a star part in his thriller Frantic (1988) and they married in 1989.
© Derek Winnert 2018 Classic Movie Review 6682
Check out more reviews on http://derekwinnert.com