Big Jake *** (1971, John Wayne, Richard Boone, Maureen O'Hara, Patrick Wayne, Chris Mitchum, Bobby Vinton, Bruce Cabot) – Classic Movie Review 3410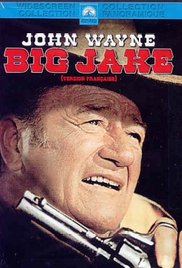 Director George Sherman's robust 1971 Western sees an ageing John Wayne coming towards the end of the trail as Big Jake McCandles, an old Texas cattleman chasing John Fain (Richard Boone)'s bloodthirsty gang who have attacked his ranch, grabbed his grandson James and hold him for a million dollar ransom.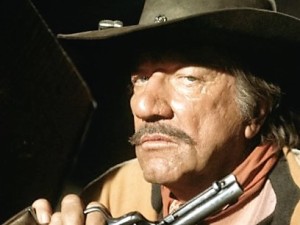 Wayne successfully mixes old-fashioned rough stuff with Seventies new-style send-up in a well-crafted screenplay by Harry Julian Fink and R M Fink. The film gets good mileage from its 1906 setting, with Wayne's character handing over his mantle to the younger generation, while battling modern technology of new guns and cars.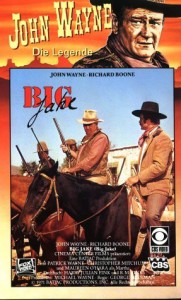 To help Wayne out, he brings in a lot of old buddies, including his own son Patrick Wayne as the grandson and Robert Mitchum's son Chris Mitchum as Michael McCandles. Playing tough rancher business woman, Martha McCandles, Maureen O'Hara appears in her fifth partnership with her friend Wayne. Though her role was apparently pared down, she is extremely effective in her limited screen time, playing an interestingly devised character.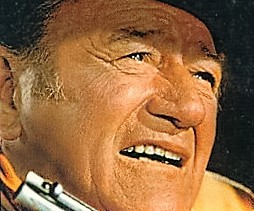 Also in the stalwart cast of Westerners are Bobby Vinton, Bruce Cabot, Glenn Corbett, Harry Carey Jnr, John Agar, John Doucette, Jim Davis, Gregg Palmer, Robert Warner, Jim Burke, Dean Smith, John Ethan Wayne, Jerry Gatlin and Hank Worden.
Boone, as ever, makes an excellent, classy villain. All in all, with cinematography by William Clothier and music by Elmer Bernstein, it is a solid, all-round professional job, surprisingly tough for its day.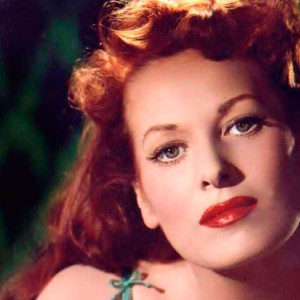 Maureen O'Hara (1920 – 2015) starred in five films with Wayne, the most beloved being The Quiet Man (1952), but also Rio Grande (1950), The Wings of Eagles (1957) and McLintock! (1963).
© Derek Winnert 2016 Classic Movie Review 3410
Link to Derek Winnert's home page for more reviews: http://derekwinnert.com/