Beyond a Reasonable Doubt ** (2009, Jesse Metcalfe, Amber Tamblyn, Michael Douglas) – Classic Movie Review 6101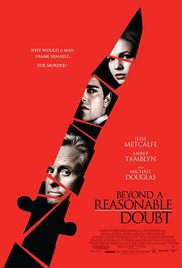 Writer-director Peter Hyams's 2009 crime thriller is a reasonable, if unremarkable, remake of Fritz Lang's cultish vintage 1956 film noir Beyond a Reasonable Doubt.
This time Jesse Metcalfe (John Tucker Must Die) stars as frustrated TV reporter C J Nicholas, who takes an awful risk when he sets out to expose the corrupt tactics of smarmy DA Mark Hunter (Michael Douglas) by implicating himself in the murder of a prostitute. When the plan goes wrong and Nicholas ends up being sent to Death Row, the only person left to help is his lover and Douglas's protégé Ella Crystal (played by Amber Tamblyn).
The twisty, rather artificial story – a mix of murder mystery and courtroom thriller – is satisfactorily tweaked, updated and re-located to Louisiana. Back in 1956, Dana Andrews was playing the hero, a writer called Tom Garrett who sets himself up to take a murder rap to show the errors of circumstantial evidence. The casting in the Fritz Lang is excellent.
This time round, however, there is a slight trouble with the casting. Maybe Metcalfe is actually miscast. He is made for romcoms, not film noir. Certainly he is not ideal, but he is a charming, if lightweight presence as a decent, everyman hero you can identify with.
Tamblyn is fine, getting the job done, though Joel David Moore is a bit off key in a too-jokey turn as Metcalfe's TV newsroom buddy Corey Finley. And it is a huge pity that Douglas – out-and-out the film's classiest act – has not got enough to do.
All in all, with Peter Hyams directing slickly, if anonymously, this movie is not great but not too bad.
Hyams's screenplay is based on the 1956 story and screenplay by Douglas Morrow.
© Derek Winnert 2017 Classic Movie Review 6101
Check out more reviews on http://derekwinnert.com