Ben-Hur: A Tale of the Christ ***** (1925, Ramon Novarro, Francis X Bushman, May McAvoy) – Classic Movie Review 2292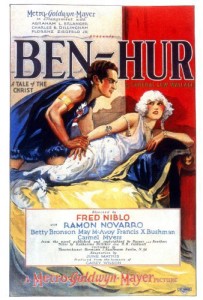 Director Fred Niblo's glorious 1925 silent movie masterpiece of General Lew Wallace's bestselling 1880 novel is an all-time film classic.
It stars Ramon Novarro as Judah Ben-Hur, the head of a noble Jewish family at the time of Christ, and Francis X  Bushman as Messala, his friend and Roman governor. May McAvoy co-stars as Esther, with Betty Bronson as Mary, Claire McDowell as Princess of Hur, Carmel Myers as Iras, Nigel De Brulier as Simonides and Kathleen Key as Tirzah.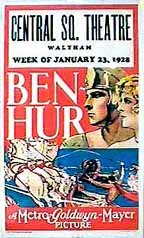 [Spoiler alert] After opposing Messala, Judah's family is thrown into jail and he becomes a galley slave. Finally he avenges himself on Messala in the chariot race and rediscovers his family.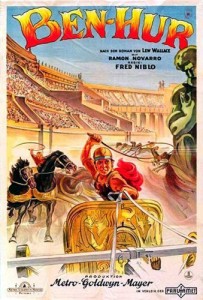 The two great silent movie stars are seen at their best in their most famous roles. Ben-Hur is spectacularly shot, largely on location in Italy. The chariot race and sea battle (filmed by second unit director B Reeves Eason) are the still breathtaking highlights of a cast-of-thousands, no-expense-spared movie that nearly bankrupted the then new MGM company to make, costing them an astounding $4 million, making Ben-Hur the most expensive film of the silent era.
However, it was wildly popular and recouped $10 million at box offices worldwide as audiences flocked to see it. Alas though, the huge expenses on the promotion and advertising of the film made it a net financial loss for MGM, who recorded an overall deficit of $698,000. On the plus side, the prestige it brought helped to establish the new MGM as a major studio and by the time it was re-released in 1931 with an added musical score and sound effects, it earned another $1,352,000 and made a profit of $779,000. So, finally, it went into an overall profit of $81,000. All's well that ends well.
It is still astonishing viewing that richly repays and rewards watching by audiences who can get into silent movies' different style and tempo, especially now that we have a perfectly restored version in its original visual glory and with an ideal stereo soundtrack.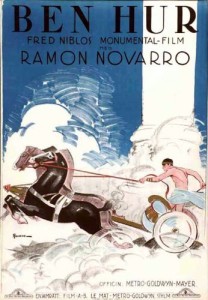 Ben-Hur was partly made in two-tone, two-strip Technicolor and the rest is tinted black and white. The Technicolor scenes were considered lost until the 1980s when Turner Entertainment, who had acquired the rights to the film, found the crucial sequences in a Czech film archive.
The splendidly restored and magnificent 1990s Thames Silent/Warner Home Video DVD version has a rousing newly recorded stereo orchestral soundtrack composed and conducted by Carl Davis, with the London Philharmonic Orchestra.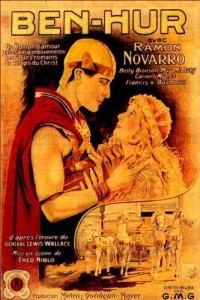 It was partly made at Rome and Anzio in Italy, where many of the lead actors were kept waiting around on salary for so long that Bushman went on a 25-country tour with his sisters and Myers went to Germany to film Garragan (1924). The chariot race was filmed in Culver Studios, California, and the naval battle scene at Livorno, Tuscany.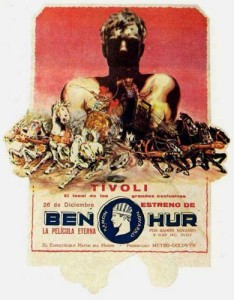 There's also a 1907 version (20 minutes) of Ben-Hur and of course MGM's famous 1959 remake of Ben-Hur with Charlton Heston and Stephen Boyd, plus the 2016 version Ben-Hur with Jack Huston as Ben-Hur, Toby Kebbell as Messala, Rodrigo Santoro as Jesus and Morgan Freeman as Sheikh Ilderim.
In the 1925 version, chariot race assistant director William Wyler (later director of the 1959 movie) can be seen in modern clothing running out of the crowd onto the track and waving his arms at the camera to get the director to have the crew cleaning up a crashed chariot to get out of the way of one of the chariots.
© Derek Winnert 2015 Classic Movie Review 2292
Check out more reviews on http://derekwinnert.com