Ben-Hur ** (2016, Jack Huston, Toby Kebbell, Rodrigo Santoro, Morgan Freeman) – Movie Review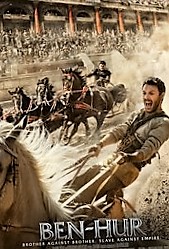 Remember the infamous old review of William Wyler's 1959 Ben-Hur: 'Loved Him, Hated Hur'? Well, the 2016 Ben-Hur provokes the response: 'Quite liked Him (Jack Huston), didn't even notice Hur (Nazanin Boniadi)'.
At 125 minutes, this new Ben-Hur must go into the Guinness Book of Records as the world's shortest movie epic, that is not counting an original 1907 silent version that lasts just 20 minutes. But it is based on a huge sprawling book that would have been an airport novel if they'd had any planes when it was written.
General Lew Wallace's sincere, faith-driven story about the conflict of the Jews and the Romans at the time of Christ, the conflict between the Jews and the Christians, and the conflict between buddies was once sensationally popular, but who has read it today?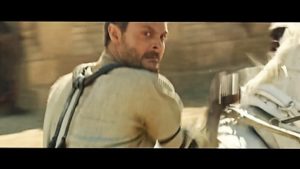 Known to us only from the movies, its story in which friendship gives way to betrayal, and lust for revenge gives way to forgiveness, just has not aged very well. Why would it? It is a Sunday school Victorian-era Christian parable, and a Bible and a moral lesson, spiced up with lots of quirky characters, ie not the sort you meet in your local pub, and action adventure, again not the kind you get on sports vacation.
Ben-Hur is a remake of two classic movies – Fred Niblo's 1925 Ramon Novarro silent epic Ben-Hur: A Tale of the Christ, the costliest ever silent movie ($4 million) and William Wyler's 1959 remake, Ben-Hur, the winner of 11 Oscars, an all-time record for nearly 50 years until equalled in 1998 by Titanic.
The 2016 film is unlikely to go down in history books. It is lavish at $100 million, but done on a careful budget, relying on digital images to save money on real stuff. And it probably will be forgotten about entirely by Oscar voting time in December. It is a redundant remake. They are already hailing it one of 2016's biggest flops, a box office bomb that looks set to lose $120 million.
In one way it does follow in the footsteps of its predecessors. It sends in to the arena actors who are for the most part desperately miscast and obviously struggling, turning cartwheels (metaphorically!) to make it work.
London-born Jack Huston as noble Ben-Hur, Toby Kebbell from Pontefract, Yorkshire, as his half-evil adopted brother Messala, Rodrigo Santoro from Rio as Jesus Christ (in a bigger role than before) and Morgan Freeman from Memphis, Tennessee, as the surprisingly kindly slave trader Sheikh Ilderim (Hugh Griffith was a very Welsh Sheikh Ilderim in 1959) are all first-class actors, welcome faces and powerful screen presences, but no one could really say they are well cast or very good either.
Kebbell is perhaps the shakiest of the four male principals, a bit actory and RADA, but the The Curse of Hur strikes again and makes Nazanin Boniadi the film's worst performer as Esther. But, there's little that she could do. The film's women are just there to whine and suffer, and of course be saved. It's a clear reflection of the Victorian era bestselling 1880 novel by General Lew Wallace, written to heal the post Civil War rift between North and South in America. Admittedly a rift-healing theme is a good thing to have around right now too, but the film's poor performance in America looks like the US isn't in that mood right now.
Now this might seem a bit mischievous, but this version really misses the homo-eroticism between Big Ben and Messala that 1959 co-screen-writer Gore Vidal infiltrated into the original. Vidal said he persuaded director William Wyler to direct actor Stephen Boyd to play Messala as if he were a spurned gay lover. This gives an electric tension to their relationship in 1959 that we don't get in 2016.
The Ben-Hur/ Messala half-brother betrayal, revenge, forgiveness story just isn't working without some strong emotional magnet between the two characters. Huston and Kebbell pull lots of constipated faces but can't act their way out of the hollowness of their characters so lukewarmly written by Keith R Clarke and John Ridley.
Huston and Kebbell both come across as really nice, decent blokes. You'd be happy to invite them to dinner. Guess who's coming to dinner? Oh Huston and Kebbell, that's nice! They'd be charming guests. On screen, Huston is never able to seem properly vengeful and Kebbell can't bring off a villainous portrait of jealous betrayal.
If this key central relationship is undernourished, it is a reflection of the whole adaptation. Wallace's book is huge. The 1959 film runs three hours and 32 minutes. Book and film are properly epic. Hacking the material to two hours here just makes for a calorie-light version that lacks much taste and body.
It ends on its worst note: religious and moral uplift. The happy ending, with its Big Message of 'forgive and believe and all will be well' is Gen Wallace's Bible lesson. There is nothing wrong with it, everything right with it, but it is hugely messed up here, finishing up with an ending that plays like an Eighties shampoo ad as Big Ben and Big Mess ride off into the sunset together.
Oh, finally there is some homo-eroticism! And Ben has to take care of his pal, now dependent on him, because he's lost a leg in the chariot race. And so it ends up as one of those toe-curling movies that make you want to go home and kick the cat. (I like cats and don't have one and wouldn't kick it, by the way.)
Now I have to admit that the chariot race is well done, but obviously you can see it's all fake and CGI, playing like a soulless video game, with Morgan Freeman bizarrely shouting pointless encouragements to Big Ben from the trainer's corner. As a Sheikh, how did he even get in to the arena? How can Ben-Hur possibly hear him over all the thunder of the horses' hooves and crowd noise? Why does Freeman keep repeating all his boring lines?
Icky ending apart, perhaps most damaging aspect of the 2016 Ben-Hur is that fails to deliver any magic on the visceral epic front like the original films. I've got a DVD with both previous versions and you're welcome to borrow it any time.
© Derek Winnert 2016 Movie Review
Check out more reviews on http://derekwinnert.com