Bell, Book and Candle **** (1958, James Stewart, Kim Novak, Jack Lemmon, Ernie Kovacs, Hermione Gingold, Elsa Lanchester, Janice Rule) – Classic Movie Review 5091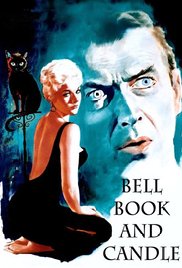 Director Richard Quine's super-tasty 1958 comedy is lightweight but delicious Fifties fantasy fun, based on the play John Van Druten, with an expert screenplay by Daniel Taradash. With Technicolor cinematography by James Wong Howe and sets by George Duning, producer Julian Blaustein's movie looks as smart as it sounds.
James Stewart stars as Shep Henderson, a Manhattan publisher who discovers that his new love object, Gil Holroyd (Kim Novak), is a witch who can make men fall for her but loses her powers when she falls for them. Stewart's Shep is soon putting off his wedding to Merle Kittridge (Janice Rule) when Novak's Gil puts a spell on him.
A really lovely vintage cast lights up this bewitching diversion with a dash of real emotion and a high quota of laughs. Lemmon enjoys himself as Novak's impish warlock brother Nicky Holroyd, and scene-stealing Hermione Gingold and Elsa Lanchester are particularly amusing as daffy sorceresses, Bianca de Passe and Aunt Queenie Holroyd.
Also in the cast are Ernie Kovacs, Philippe Clay, Bek Nelson, Howard McNear, Joe Barry, Gail Bonnet and Monty Ash.
Kim Novak won the 1955 Golden Globe for Most Promising Newcomer – Female for her early success Phffft! (1955), which also starred her with Jack Lemmon. She is also fondly remembered for Vertigo, Picnic, and The Man with the Golden Arm. She retired after Liebestraum (1991).
© Derek Winnert 2017 Classic Movie Review 5091
Check out more reviews on http://derekwinnert.com