Being Human ** (1994, Robin Williams, John Turturro, Kelly Hunter) – Classic Movie Review 1570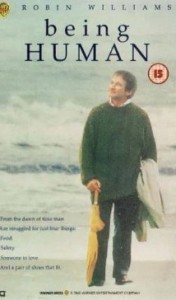 With the best will in the world, writer-director Bill Forsyth's 1994 offbeat epic fantasy comedy drama just can't be judged an unqualified success, though it's a highly ambitious and intelligent project.
Robin Williams teams with the Scottish director of Gregory's Girl for a portmanteau movie about a struggling everyman – a human soul named Hector – incarnated in five different periods of history from the Bronze Age to modern-day New York. As he searches for the meaning of courage across four lifetimes, he finds that history has a way of repeating itself.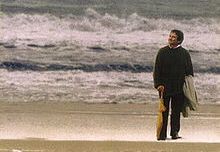 Forsyth and Williams definitely get top marks for trying, but, alas, rather fewer for achievement. Williams, the only common actor throughout the stories that span man's history on Earth, works hard and is engaging, as always. He and the rest of the classy cast  – Lorraine Bracco, Hector Elizondo, Ewan McGregor (aged 23, in his feature film debut, playing Alvarez), Robert Carlyle (Priest), Ken Stott, Anna Galiena, William H Macy and Theresa Russell – certainly help to keep it watchable. However, the deliberately slow-moving and sometimes faintly irritating project can turn annoying when Russell goes into her quirkily pretentious narration.
Sadly, despite all the effort, it was a box office flop. Forsyth disowned the film after the studio forced him to cut it by 40 minutes to 122 minutes as well as to add the narration and a happy ending, after adverse reaction at preview screenings.
McGregor and Carlyle starred together in Trainspotting and T2 Trainspotting.
© Derek Winnert 2014 Classic Movie Review 1570
Check out more reviews on http://derekwinnert.com/