Behind the Candelabra **** (2013, Michael Douglas, Matt Damon, Scott Bakula, Rob Lowe, Debbie Reynolds, Dan Aykroyd, Eric Zuckerman) – Movie Review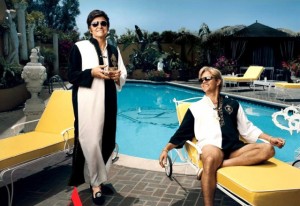 If you planned to make a movie about the outrageously camp piano-player Liberace, who would you cast? Director Steven Soderbergh goes for a most unexpected choice, Michael Douglas (69), and that canniest of actors enjoys one of his best ever roles as Liberace in this often exuberant and sparkling, sometimes sordid and grubby tale of love, lust and lost dreams.
What did his dad, Kirk Douglas, say when Michael told him he was going to play the star in this warts-and-all saga? 'No way, José', I'd guess. Or maybe, 'it's the role of a lifetime, everybody knows you're the most heterosexual star in the universe, so why not, go for it!' What for that matter did Michael's wife Catherine Zeta-Jones have to say about it? Mmm, interesting.
No big deal playing a gay character these days. Matt Damon's done it before, (and to huge effect) a long time ago in The Talented Mr Ripley. Here he is again, then, as Liberace's young, teenage lover, the real-life Scott Thorson, upon whose doubtless unreliable fictionalised memoirs this film is based. Co-written with Alex Thorleifson, it's an 'autobiographical novel'; for heaven's sake!
A bit of a problem, that, then. What's presented here as a true story is based entirely on the memoirs of one party, and it was fictionalised. Scott Thorson has been in and out of jail, adding to an impression of his unreliability as a witness to Liberace's life. Now he's sick and short of money, and has written another book to cash in on this film's success. I'm not saying this isn't the true story, more or less exactly as it happened, just that it feel like a courtroom with Liberace on trial, and no Liberace. The man's dead. He can't defend himself or his reputation. Unfair trial.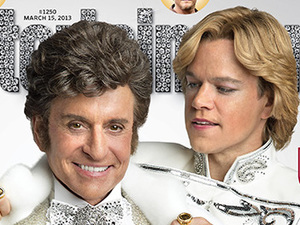 He doesn't come over as particularly evil, vicious or wicked or anything like that, just a shameful, promiscuous, sex-obsessed stereotypical 'old queen' who uses and throws away the boy, 40 years younger than him, when he's tired of him after six years of relationship, ending in a bitter legal battle . They argue, they fight, like Lucy and Ricky in The Lucy Show, sometimes more like Bette and Joan in What Ever Happened to Baby Jane? It's ugly and distressing to see this relationship collapsing in this petty, squalid way. Most damningly, when his supposedly beloved Mom dies, he can't really be bothered with tears or the funeral and just says 'now, I'm free.' How, exactly, do we know all this?
What's this film actually about? Does it want to say that gay stars in the bad old days couldn't come out and live their lives properly in the open because of public opinion and the laws then? Things have changed a bit, but not that much. Liberace plainly couldn't tell the public he was gay. Otherwise his fan based would have collapsed and the old blue-rinsed ladies would buy his records or come to his Vegas shows. It's obvious. Everything about this film is obvious, except the mysterious purpose of its making.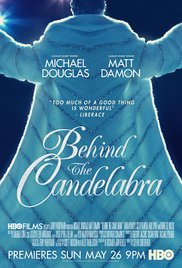 Other, that is, than its need to entertain. That it does, in overflowing bucketloads. As an entertainment, Behind the Candelabra is absolutely fabulous. Soderbergh's film-making is fired up and inspired. It is deliriously fast and funny, in a glorious production, with its Seventies period styles, makeup and sets marvellously well achieved.
As an acting showcase, it provides brilliant opportunities for a bunch of actors who grab their chances like beggars offered food in a famine. If Douglas is a showstopper, Damon is outrageously eye-catching in a more difficult role, always supporting, even if the story's in some ways more about him. Rob Lowe is hysterical (something I thought I'd never write) as the star duo's face-improvement surgeon Dr Jack Startz, Debbie Reynolds is unrecognisable and excellent in her four little scenes as Liberace's Mom, Frances, and Dan Aykroyd is equally unrecognisable and excellent as Liberace's manager, Seymour Heller. They all deserve more screen time.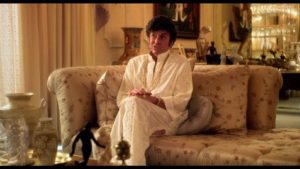 Actors headline and attract audiences but films start and end with the script, and there is no doubt that Richard LaGrevenese's knockout screenplay is a glorious little gem of amusing and penetrating writing. It is just that I sense Liberace turning over in his grave, and I don't feel he deserves this. I know that there have already been a couple of TV movies about him, but this an intrusion into his carefully preserved privacy and he would have hated it, even if it is a film that is going to give a lot of pleasure to a lot of people and will help preserve his name, fame and posterity, simply adding to the legend.
I hope that, after the two hours of high emotion and big laughter, it makes them think a while afterwards. For all its faults, this is a dazzling, must-see movie that is going to be much seen and much talked about.
Now, like it or not, Liberace's finally a gay icon. So was that what they were going for?
By the way, the movie's dedicated to its score composer Marvin Hamlisch, the all-time great who died in August 2012.
It won the 2014 Golden Globe for Best Miniseries or Motion Picture Made for Television and Michael Douglas won the 2014 Golden Globe for Best Performance by an Actor in a Miniseries or Motion Picture Made for Television.
© Derek Winnert 2013 Movie Review
Check out more reviews on http://derekwinnert.com