Beginning of the End * (1957, Peggie Castle, Peter Graves, Morris Ankrum) – Classic Movie Review 3984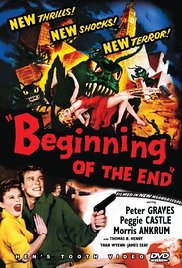 Producer-director Bert I Gordon's dull, cheap and extremely silly 1957 Republic Studios black and white sci-fi monster movie stars Peggie Castle as enterprising journalist Audrey Aimes, Peter Graves as Dr Ed Wainwright and Morris Ankrum as General John Hanson. It was advertised as the screen's first full-length science-fiction thriller with real live creatures.
Fred Freiberger and Lester Gorn's screenplay tells the story of the effect of  radiation leading to the breeding of rampaging mutant giant grasshoppers, which mankind needs to put a swift end to or else. Audrey battles a military cover-up to save Chicago.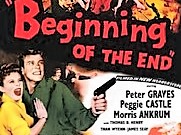 Neither the actors nor the special effects nor producer-director Gordon manage to add any special interest to the project, but it is hilariously bad and amusing in places.
Also in the cast are James Seay, Richard Benedict, Pierre Watkin, Thomas B Henry, John Close, Don C Harvey, Larry J Blake, Steve Warren, Frank Connor, Frank Wilcox, Frank Chase and Don Eitner.
The film uses 200 grasshoppers but they began to eat each other, leaving only a dozen left for the final shot.
© Derek Winnert 2016 Classic Movie Review 3984
Check out more reviews on http://derekwinnert.com