Becky Sharp **** (1935, Miriam Hopkins, Frances Dee, Cedric Hardwicke, Nigel Bruce, Alan Mowbray, William Faversham, Billie Burke, Alison Skipworth) – Classic Movie Review 6547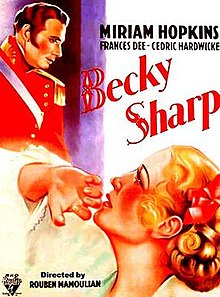 Director Rouben Mamoulian's witty and delightful classic 1935 film version of William Makepeace Thackeray's novel Vanity Fair made movie history as the first feature film to use the newly developed three-strip Technicolor throughout. It was restored to all the beauty of its original glory in 1985 to celebrate its 50th birthday and it still looks an absolute knockout treat.
Miriam Hopkins was Oscar-nominated as Best Actress for her involving performance as the ambitious, selfish lower-class temptress Becky Sharp, who makes her way in English Regency life after Napoleon's defeat at the Battle of Waterloo. She insinuates her way into the lives of an upper-class family, leaving a trail of destruction. It is a tricky, rather chilly role to play, and a well-cast Hopkins is up for it. Billie Burke also impresses as Lady Bareacres, one of the socialites she offends. Frances Dee has another key female role as Becky's upper-class school friend Amelia.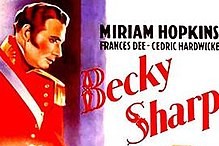 But, nevertheless, it is probably the men playing the gentlemen she links up with (the Marquis of Steyne (Cedric Hardwicke), Joseph Sedley (Nigel Bruce), Rawdon Crawley (Alan Mowbray) and George Osborne (G P Huntley Jr) who best capture Thackeray's English satirical spirit. These are four very strong performances.
The ever-experimenting Mamoulian typically tries out a number of worthwhile technical tricks, which adds to the film's fascination. Though the movie still seems like a stagy and artificial museum exhibit – perhaps because it looks so beautiful thanks to the exquisite cinematography by Ray Rennahan and fussily intricate production designs by Robert Edmond Jones – it is a gleaming, gloriously posh one.
Francis Edward Faragoh's screenplay is based on Langdon Mitchell's 1890s play of Thackeray's Vanity Fair.
Also in the cast are Alison Skipworth, Colin Tapley, Leonard Mudie, Doris Lloyd, Charles Richman, George Hassell and William Faversham.
Running just 84 minutes, this RKO Radio Pictures film is produced by Kenneth Macgowan and Rouben Mamoulian, and scored by Roy Webb.
The cut TV version runs at 67 minutes.
It paved the way for an explosion of colour movies in the US and UK before World War Two.
It was filmed as Vanity Fair in 1923 and 1932, and again in 2006 as Vanity Fair with Reese Witherspoon.
Original director Lowell Sherman died of double pneumonia four weeks into production. Mamoulian was brought in to finish the film but decided instead to reshoot it in its entirety.
It won the Best Colour Film award at the Venice Film Festival in 1935.
It is the first feature film production to use the three-strip Technicolor process throughout, though earlier live action films used the process in short sequences. It created a separate film register for each of the three primary colours.
The UCLA Film and Television Archive restored the film, under the supervision of archivist Robert Gitt, in 1985. Mamoulian appeared at the restored print's premiere at the Academy of Motion Picture Arts and Sciences theatre in Beverly Hills.
© Derek Winnert 2018 Classic Movie Review 6547
Check out more reviews on http://derekwinnert.com