Beautiful Thing **** (1996, Glen Berry, Scott Neal, Linda Henry, Meera Syal) – Classic Movie Review 153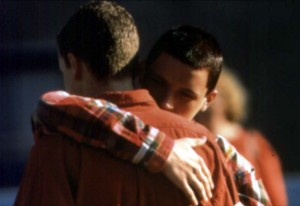 A tender love story about gay teenagers coming of age, set on a rough southeast London council estate, this 1996 film is indeed a Beautiful Thing. A working-class south-east London teenage lad, Jamie (Glen Berry), has a crush on another boy, his neighbour Ste (Scott Neal), and, surprise, surprise, it all works out a treat both romantically and socially.
Based on a London theatre hit play by Jonathan Harvey, the splendid romantic gay story is directed both sensitively and imaginatively by theatre director Hettie MacDonald, in her first film.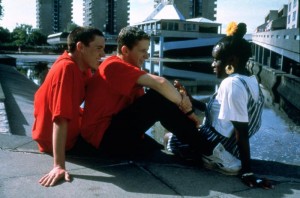 Jamie avoids footie at school to evade bullies. The more sporty Ste lives next door but is regularly attacked by his dad and brother. Jamie's mum Sandra (Linda Henry), who steadfastly loves Jamie while wanting to open a pub, gives Ste a roof over his head when he needs it. His father has beaten him, he comes to stay the night with Jamie and the two lads share a bed top to tail, find they have feelings for each other, and eventually get together.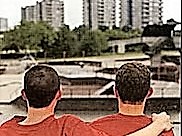 Mixing reality with wish-fulfilment, and adding in provocative views and right-on gay politics, the film proposes a time when it really does seem as though there could finally be a rainbow over London's Docklands like the one we see on screen. (The rainbow flag is of course the gay insignia.)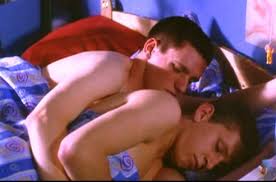 Berry and Neal are spot on as the lads, and so's Harvey's acerbic, wise screenplay from his own play. The film comes like a breath of fresh air from its mid-nineties period.
There's great use of the old songs from The Mamas and the Papas (California Dreamin'). Harvey appears uncredited as Wheelchair Queen. His still-relevant play was successfully revived in London in 2013.
© Derek Winnert Classic Film Review 153 derekwinnert.com