Beast ** (2017 Jessie Buckley, Johnny Flynn, Geraldine James, Trystan Gravelle) – Movie Review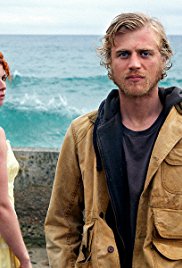 Writer-director Michael Pearce's British feature debut drama starts quite well, proceeds fairly well, then gets messy mid way and loses it in the last half hour.
Jessie Buckley stars as disturbed 28-year-old Moll, who is living on Jersey with her awful, oppressive mother (Geraldine James) and sickly father. She has stabbed a girl as a 14-year-old school kid, and been home schooled by mum, growing up as neurotic as she is clever and intelligent. She is a 'wild one'.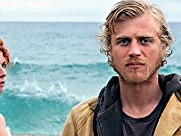 It starts with her birthday party. Local cop Clifford (Trystan Gravelle) fancies her and tries to come on to her. Her mom starts bossing her around. She flees from the bash, and ends up at an all-night disco, bopping the night away with a likely lad. They end up on the beach in the morning, she tries to get away from him as he persists in trying to kiss her, and a local rabbit hunter with a rifle suddenly turns up and scares the lad away.
This man is Pascal (Johnny Flynn), who is at least as disturbed a Moll, and has a similar violent back history. They are made for each other. Well maybe, maybe not. Clifford thinks that Pascal may be the local serial killer committing a series of brutal murders.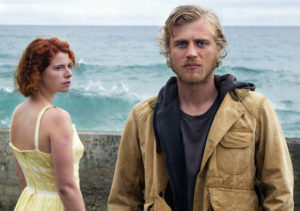 So it's just a question of whether the bad boy is a killer, and if the couple are going to end up together. It is a version of Hitchcock's Suspicion and Hitchcock's The Lodger. It is a tale older than time, well as old as the Victorians.
Director Pearce gives it a pretty good gloss, with bleak views of the island landscape in a well-made, well-paced, atmospheric film. The score is an irritant. It starts thumping away when Pearce has already done the work with his script and direction. It would be a bold stroke, but you could dump the music altogether and have a much creepier film.
Buckley and Flynn are both good, but the roles are extremely hard to play and the effort shows occasionally, not surprisingly. As the monster mum, Geraldine James adds a lot of entertainment value to a generally very sombre film.
The script doesn't seem to like any of its characters, so you don't either, and that is a real problem. Eventually, they all become tedious, and you stop caring about their fates. It is a film with a credibility gap. It feels like a movie story, not one taken from real life. And that is a real problem.
© Derek Winnert 2017 Movie Review 
Check out more reviews on http://derekwinnert.com