Beach Rats **** (2017, Harris Dickinson, Madeline Weinstein, Kate Hodge, Neal Huff, Harrison Sheehan) – Movie Review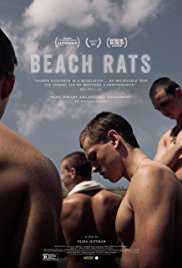 Writer-director Eliza Hittman's provocative coming-of-age/ coming-out drama is intelligent, thoughtful, exciting, intensely gripping, involving and sexy. Movies are all in the detail, and this is superbly detailed and nuanced.
Harris Dickinson is outstanding as a struggling, aimless Brooklyn teenager battling his bleak home life, hanging out with his three dead-beat delinquent buddies, toying with a potential new girlfriend, experimenting with drugs and looking for older men online. It is a difficult role to play, up front and personal throughout, but Dickinson is up for every nuance of it.
With his dad dying of cancer, and his little brother and sister starting up busy, untroubled sex lives, the boy is trying to escape his stifling family and establish his own identity as a man. But how to escape, that is the question, and where to escape to?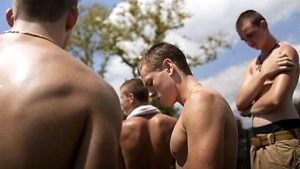 The boy soon puts himself in danger as he goes from virtual to actual cruising, real danger, and you start to fear for his life. This story doesn't like like it's going to go well for its hero, but you are in the dark. You have no idea, any more than he has, where the story is heading. And that's good. It could go anywhere. You can't wait to find out where. It stops exactly where it should, just like Call Me By Your Name does, long before the story is resolved.
[Spoiler alert] At the end, you are waiting to hear the next part of the boy's story, just like you are with Elio in Call Me By Your Name. Again, it's a difficult trick to pull off, but in both films nice and satisfying with a huge emotional kick. Elio is left tearful but the Beach Rats hero is left dazed and confused. It feels right for both films
It is a surprise that a woman has made this movie, but she gives strong parts to two actresses. Madeline Weinstein is ideal in support as Simone, the alluring shop-girl who fancies the hero when they meet under the fireworks on the boardwalk, and Kate Hodge is powerful as the boy's attractive, dominating mother. Simone finds that the hero is a 'fixer-upper', that is he is hard work and would need lots of that to make their relationship work.
[Spoiler alert] She chucks him almost at once, and that was the right decision, going with her instinct. But he smarms his way back into her life, as he is a handsome charmer, quite smooth in his rough kind of way. She unexpectedly turns up at the dad's funeral, and the boy is charmed. But eventually she realises he will take too much fixing up for her to keep him on as her Brooklyn project.
She's right, of course, the boy is gay, but he is still trying to define himself, find his individual place, be his own man. Like Elio in Call Me By Your Name, he is basically a good person, though he is much more of a rough diamond as circumstances haven't favoured him like they have Elio. Well, we're not among rich, privileged folks in lovely northern Italy for a start, are we?
The emotion and impact of the film come pounding in, heart-beatingly so, a couple of times. It is a strong emotional ride over harsh country. If the point of the story is obscure, that is because the hero is lost in translation to adulthood, and there are no compasses for him. It ends with fireworks, like the hero observing the fireworks that he has dissed when he met the girl.
This time, the fireworks may be a hopeful sign of fireworks to come in the kid's future life. It doesn't feel like it is ironical fireworks like at the end of The Florida Project but it is hard to tell in either case. Subtle, unresolved endings are difficult to pull off satisfyingly, (doesn't The Catcher in the Rye end like that?), but I think this one does.
This is an extremely frank movie, with strong sexual content, graphic nudity, drug use and language. Call Me By Your Name has a strong sex warning, but this film actually has strong sex. The two films both have the same UK 15 certificate, but exist on different planets.
The film premiered at the Sundance Film Festival on 23 January 2017, was screened at the London Film Festival on 6 October, and was released in the UK on 24 November.
It comes as a shock that Dickinson was born in Walthamstow, London. Dickinson says: 'It felt so real and tragic. It wasn't a glamorised coming-out story. It felt like an observational piece about a teenager with deep, deep questions about his sexuality and identity in an area that was so working class and masculine and traditional.'
© Derek Winnert 2017 Movie Review
Check out more reviews on http://derekwinnert.com