Be Cool *** (2005, John Travolta, Uma Thurman, Dwayne Johnson, Vince Vaughn, Danny DeVito, Christina Milian, Harvey Keitel, Cedric the Entertainer, James Woods) – Classic Movie Review 4214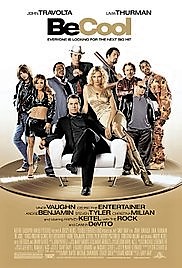 John Travolta is back in 2005 as the smooth operator Chili Palmer from 1995's hit Get Shorty, who swaps films for the music business and gets mixed up with several different bunches of worryingly crazy crooks: the Russian Mafia and rapper gangstas.
Up to his neck in debt, Travolta's Chili Palmer promotes the career of a new singer, Linda Moon (Christina Milian), and romances sexy record boss Edie Athens (Uma Thurman). Travolta and Thurman's characters and performances are cucumber cool when all around them are combusting. Vince Vaughn (as Milian's ex-manager Raji) is a hoot, and Harvey Keitel (as Vaughn's partner Nick Carr), James Woods (all too briefly as Chili's music producer buddy Tommy Athens) and Cedric the Entertainer as Sin LaSalle are fine, though The Rock [Dwayne Johnson] is a bit iffy as Vaughn's gay bodyguard.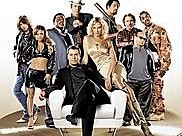 Despite lots of dodgy ideas and a shambolic air of a film that can't quite get its act together, this black comedy thriller stays pretty neat and cool most of the time and director F Gary Gray makes it quirky, atmospheric and just about manages to keep a lid on the whole thing. The dodgy ideas and a shambolic air are inherent in Peter Steinfeld's a bit iffy screenplay.
It was costly at $53 million but did pretty well to take $55 million in the US.
Travolta and Thurman, who recall their Pulp Fiction partnership when they dance together for a second in the closing credits, got acres of publicity when they came to London for the junket and graced Leicester Square for the premiere. Producer Danny DeVito briefly recreates his Martin Weir character from Get Shorty.
Also in the cast are André Benjamin, Robert Pastorelli, Debi Mazar, Anthony J Ribustello, Alex Kubik and Seth Green.
Though Get Shorty was a success, 1997's Jackie Brown still remains the best adaptation of an Elmore Leonard novel.
© Derek Winnert 2016 Classic Movie Review 4214
Check out more reviews on http://derekwinnert