Battleship Potemkin [Bronenosets Potyomkin] ***** (1925, Aleksandr Antonov, Vladimir Barsky, Grigori Aleksandrov) – Classic Movie Review 4919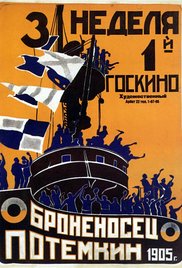 Co-writer/director Sergei M Eisenstein's 1925 Soviet silent movie classic recreates the successful sailors' revolt against their officers aboard the Russian battleship Potemkin in Odessa harbour in 1905 when faced with eating maggot-ridden food. Eisenstein's dramatised account continues with the street demonstration that brought on a massacre of a crowd of unarmed civilians including women and children by dismounted Cossack soldiers.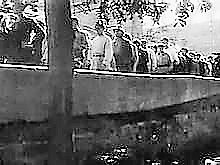 It is a rare case of a work art created out of propaganda. The Soviet authorities wanted a film to commemorate the 20th birthday of the Russian Revolution, but Eisenstein gave them a masterpiece that launched a cinema revolution. Its cinematography, frantic editing and directorial methods are an astonishing manual of film techniques.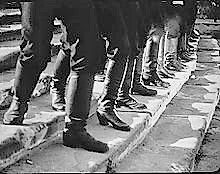 However, effectively it was banned the United Kingdom until 1954 and X-rated until 1978. It was also banned in West Germany, France and other countries for its revolutionary zeal.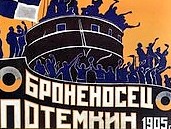 The imaginary and wholly invented Odessa Steps climactic sequence, in which unarmed people are massacred while running down the stairs by constantly advancing state troops, is one of the most powerful and renowned in all the movies. Brian De Palma cheekily borrowed it for the shootout climax of The Untouchables (1987).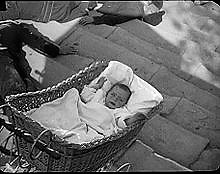 In the cast are Aleksandr Antonov as Grigory Vakulinchuk, Vladimir Barsky as Commander Golikov, Grigori Aleksandrov as Chief Officer Giliarovsky, Mikhail Gomorov, Ivan Bobrov, Aleksandr Levshin, N Poltavseva and Konstantin Feldman. Eisenstein has a cameo as an Odessa citizen.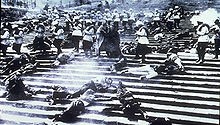 It runs 75 minutes, was produced by Mosfilm, released by Goskino, is co-written by Nina Agadzhanova-Shutko, is shot in black and white by Eduard Tissé and Vladimir Popov, is produced by Jacob Bliokh and designed by Vasili Rakhals. The original 1925 score was by Edmund Meisel.
It runs 68 minutes in the DVD edition and Blu-ray.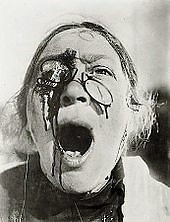 A three-year restoration was completed in 2004 with excised scenes of violence and Trotsky's original written introduction restored. The English titles that toned down the mutinous sailors' revolutionary rhetoric were corrected as an accurate translation of the original Russian titles.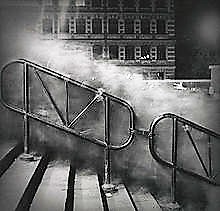 Appearing in Britain just after the 1926 general strike, it was rejected for public screening by the British Board of Film Censors for its Bolshevik propaganda, after conferring with the Home Secretary, though it was finally awarded an X certificate in 1954.
Intrepidly following in the footsteps of a score by Dmitri Shostakovich, in 2004 The Pet Shop Boys wrote new music for the film and performed it at a showing in London's Trafalgar Square, a good use of the square for once.
© Derek Winnert 2017 Classic Movie Review 4919
Check out more reviews on http://derekwinnert.com