Battle Circus ** (1953, Humphrey Bogart, June Allyson, Keenan Wynn, Robert Keith) – Classic Movie Review 4272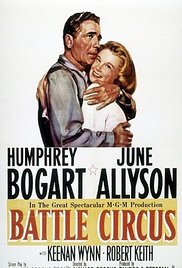 Humphrey Bogart and June Allyson seem to be ideally cast as Major Jed Webbe, a cynical, boozy army major surgeon, and Lieutenant Ruth McGara, an idealistic, altruistic nurse, who fall in love while working in a Korean War mobile hospital in writer-director Richard Brooks's wartime romantic drama.
Maybe their soppy romance isn't much to write home about, particularly because Allyson is a tad irritating in this one, but the serious MASH (Mobile Army Surgical Hospital) unit element of the story is much more engrossing and punchy, especially at the climax.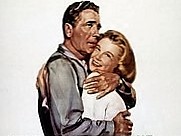 Bogart isn't at his very best here in one of his least known roles, but he still commands attention, even if his appearance doesn't fully redeem a film that must be judged a rare dud from his best period. The main problems all start with the low-voltage script, depressed by maudlin sentimentality and too-simple-minded humour involving Keenan Wynn as the sergeant, Orvil Statt.
You might expect better from a movie with Bogart at his peak, and the Bogart-Allyson team shows no real sparks. But, still, the movie has both rarity and interest value and it'll do.
Also in the cast are Robert Keith as Lieutenant Colonel Hilary Walters, William Campbell as Captain John 'Rusty' Rustford, Perry Sheehan, Patricia Tiernan, Adele Longmire, Jonathan Cott, Philip Ahn and Steve Forrest (1925–2013).
© Derek Winnert 2016 Classic Movie Review 4272
Check out more reviews on http://derekwinnert