Batman v Superman: Dawn of Justice ***½ (2016, Ben Affleck, Henry Cavill, Amy Adams, Jesse Eisenberg, Jeremy Irons, Gal Gadot) – Movie Review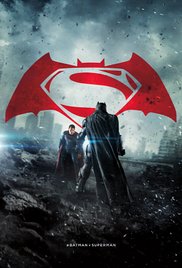 Zack Snyder's critically bashed superhero head-to-head is a box-office sensation, maybe surprisingly so, maybe not. The two for the price of one deal of infinitely rich and tormented human wrong-righter plus infinitely handsome and conflicted demi-god-alien was always an offer we wouldn't want to refuse.
It's a weird movie going its own sweet dark way for two and a half hours with relentless confidence and even more relentless CGI. Whatever else you want to say about it, it is its own thing, an original. Paradoxically for a comic book movie, in a blockbuster world of juvenile movies, it provides something very grown-up and adult. What can 10- or 12-year-olds make of it? They've probably never even seen a Batman or a Superman movie. So not much, I guess. And this film depends a lot on knowledge of the characters, their stories and their universe.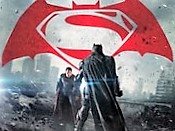 Though made by the director of the Superman reboot Man of Steel (2013), it's very much son of the Christopher Nolan Batman films, as his presence as one of the executive producers reminds us. It is a very serious film. There are some  jokes and a bit of wit in the dialogue, but very little, too little. When there's a funny line well delivered, it goes for nothing because Batman v Superman hasn't encouraged us to laugh. That's a shame. It's a comic book book movie!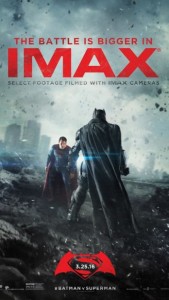 Ben Affleck's grim performance as Batman leads the way to keep things dark and sombre. Dangerously, Affleck underplays so seriously that he seems almost comatose. He looks about right but there's no acting required and Affleck obliges.
Superman's got his troubles too, so he's pretty grim this time round too, playing a role that defeated both Gene Hackman and Kevin Spacey, Jesse Eisenberg tries to be funny as Lex Luthor, an impossible task, but he does it as well as anybody could, I guess. There's rather a lot of Lex Luthor as he's the supervillain who sets off Batman v Superman, showing the world that Superman is clearly a danger to society.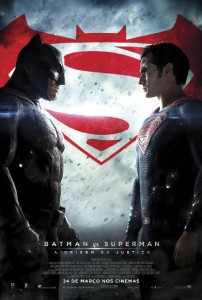 Unconvincingly, Bruce Wayne/Batman is easily convinced and, after a quick chat with Alfred (Jeremy Irons), dons his Batman mask and cape to right Superman's wrongs. Batman's chats with Alfred prove a quiet human highlight of a film that lacks them, Irons relishing his role like he's in a dress rehearsal for an Oscar Wilde play. It's camp, and it works. It's about the only camp thing in the movie.
Anyhoo, Lex invites along both Bruce and Clark Kent and historically introduces them to each other, though Bruce turns out to be more interested in some strange woman who's wandering around –  she introduces herself as Diana Prince, though it turns out she's as old as time and is a bit of a Wonder Woman. The very fit Gal Gadot seems perfect for the role, or rather both roles. She of course went on to triumph in her own movie, Wonder Woman (2017).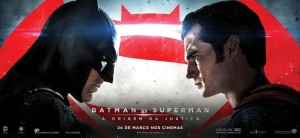 There are three other main female parts, all of them duff. Amy Adams has a lot to do as Lois Lane, Diane Lane has quite a lot to do as Martha Kent, and Holly Hunter has a bewildering large amount to do in the film's first half as Senator Finch, a side character somehow pointlessly elevated to the forefront. Adams and Lane have little more too do than look anguished and suffer. They do it well. Hunter's role is an irritant and she does it well too. 
Scoot McNairy is Bruce's incapacitated employee, Callan Mulvey is the wicked foreigner Anatoli Knyazev and Lauren Cohan (from The Boy) is Martha Wayne. They are all nothing roles. It is all about Batman and Superman, plus Lex and Diana. That is what it says on the tin, and that what it delivers. So good. But in two and a half hours, quite a bit more scripting and plotting, and character building and development would be good. But, then again, it's a comic book movie.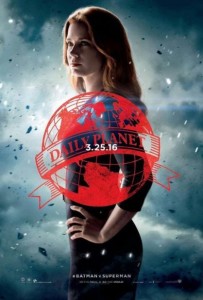 The visuals are stunning –  it's a comic book movie! You could just turn the sound off and stare at the images and admire. Yes, there's way, way too much CGI but it's brilliant. It could be a moving comic book. It's a bit of an art work. Sometimes you just want to freeze a frame too relish it. Gasp! But, no don't turn the sound off, or you'd miss the marvellous, full-on score by Hans Zimmer and Junkie XL. Larry Fong is the director of photography, Patrick Tatopoulos is the production designer Michael Wilkinson is the costume designer. Let's give them all awards right now.
Chris Terrio and David S. Goyer's screenplay is very muddled at the start and takes a long time to kick in, then complicates what turns out to be quite a slim story to near breaking point but still manages to hold onto it. Plus it does the clever and difficult job of providing a sequel to Man of Steel, a reboot for Batman and a prequel to Justice League. That it turns out this satisfactorily is quite a magic trick.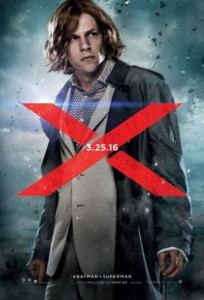 Ah yes! Batman v Superman, who wins? Will Batman be back for Justice League Part One? Will Superman be back for Justice League Part One? Will Supergirl be back for Justice League Part One? My lips are sealed. Will Lex Luthor be back for Justice League Part One? Here's what Jesse Eisenberg has to say: 'I don't know if they are so settled on where my character goes. I only hope I have another opportunity to work with these wonderful people and play this interesting character.'
In the DC Comics world, Batman was created by Bob Kane and Bill Finger, while Superman was created by Jerry Siegel and Joe Shuster.
ext appearance for Batman is his cameo in Suicide Squad (2016), followed by Justice League (2017).
http://derekwinnert.com/man-of-steel-film-review/
© Derek Winnert 2016 Movie Review
Link to Derek Winnert's home page for more reviews: http://derekwinnert.com/