Band Waggon *** (1939, Arthur Askey, Richard Murdoch, Pat Kirkwood, Jack Hylton, Moore Marriott) – Classic Movie Review 5170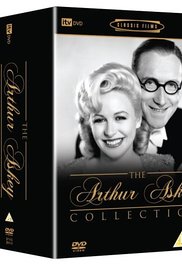 Director Marcel Varnel's 1939 British musical comedy brings 'Big-Hearted' Arthur Askey and Richard 'Stinker' Murdoch's hit BBC wireless programme (radio show) to the screen with the breezy performances intact and a sparky plot not a million miles away from their 1941 version of The Ghost Train.
The duo are apparently haunted by a ghost (Moore Marriott) and catch a ring of Nazi spies while operating an unlicensed TV channel in a Sussex haunted castle, Droon Castle. The ghostly Marriott turns out to be Jasper the caretaker, hired by the spies to repel nosey visitors, and the spies have prototype TVs to track allied aircraft.
Putting on a show, which is illicitly put on the air and lands them a lucrative contract, Arthur and Stinker are also found singing with Jack Hylton and His Band.
Nostalgia is one reason to watch – big-hearted Askey was a national treasure – but this exuberantly handled and performed foolish nonsense is funny in its own right.
Also in the cast are Pat Kirkwood, Peter Gawthorne, Wally Patch, Donald Calthrop, Bruce Trent, C H Middleton, Freddy Schweitzer, Michael Standing, Jasmine Black, Jonah Barrington, Paul Holt and Bernard Miles.
The screenplay by Marriott Edgar, Val Guest, Robert Edmunds, J O C Orton and John Watt is based on the BBC radio series by Harry S Pepper, Gordon Crier, and Vernon Harris.
© Derek Winnert 2017 Classic Movie Review 5170
Check out more reviews on http://derekwinnert.com