Band of Angels ** (1957, Clark Gable, Yvonne De Carlo, Sidney Poitier, Efrem Zimbalist Jr, Rex Reason, Patric Knowles) – Classic Movie Review 3978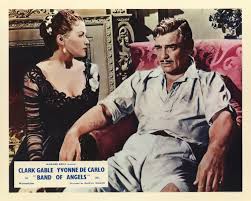 Director Raoul Walsh's creaky, unenthusiastic, forgotten 1957 romantic drama stars Clark Gable as handsome but shady Louisiana plantation owner Hamish Bond and Yvonne De Carlo as privileged young southern belle Amantha Starr living the rich life before the Civil War.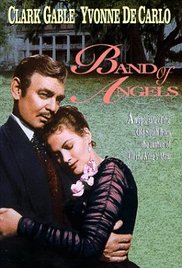 When her father dies broke, Amantha discovers that her mother was a black slave and her father's mistress. And then Amantha is sold as a slave. She is bought by Bond, who wants to love her. 'You're no blue blood any more honey,' he tells her in no uncertain fashion. 'The master bought you and now he's waitin'!' Yet Amantha eventually grows to love him – until she learns he was a slave trader.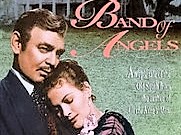 The star presence of Gable, Max Steiner's sore and the setting of US Civil War story of Robert Penn Warren's source novel all recall Gone with the Wind. But, alas, everybody here seems a bit weary or just a little past their prime, and they are acting and directing in a tepid, under-powered way.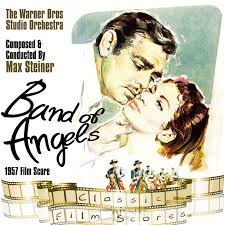 Though it is set in a long-ago past and so half-hearted, the story could still be found objectionable. Gable and De Carlo fail to light sparks but Sidney Poitier does some real acting as an educated slave, Rau-Ru.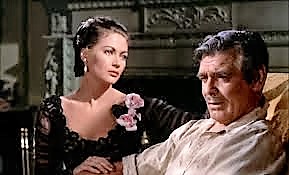 Also in the cast are Efrem Zimbalist Jnr as Lt. Ethan Sears, Rex Reason as Capt. Seth Parton, Patric Knowles as Charles de Marigny, Torin Thatcher, Andrea King, Ray Teal, Russell Evans, Raymond Bailey, Tommie Moore and Carolle Drake.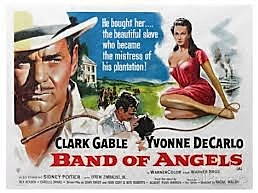 It flopped after poor reviews. Annoyed the film was compared unfavourably with Gone with the Wind, Gable told his agent about future film choices: 'If it doesn't suit an old geezer with false teeth, forget about it.' And Raoul Walsh was off his list of favourite directors.
© Derek Winnert 2016 Classic Movie Review 3978
Check out more reviews on http://derekwinnert.com