Bagdad **½ (1949, Maureen O'Hara, Vincent Price, Paul Hubschmid) – Classic Movie Review 5307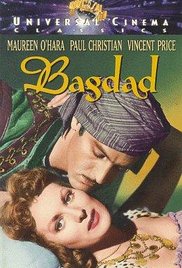 Maureen O'Hara, Vincent Price and Paul Christian [Hubschmid] are happily employed – if not exactly well cast – in director Charles Lamont's carefree 1949 escapist adventure that provides a most exotic, Technicolorful touch of the old Arabian Nights. It comes from Universal Pictures, following up their 1942 hit Arabian Nights.
Price has the good idea of playing it campy and tongue in cheek, but then, cast as villainous Turkish Pasha Ali Nadim, Bagdad's corrupt representative of the national government, what else could he do?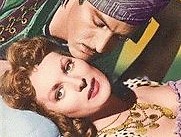 Taking it more seriously, O'Hara is a sight for sore eyes as the English-educated Bedouin Princess Marjan, returns to Bagdad where Pasha Ali Nadim is her host and admirer. But she finds that her quest is looking to avenge herself on the leader of the Black Robes villains who has killed her father. Swiss-born Paul Christian [Paul Hubschmid] plays Prince Hassan, who courts the Princess but finds himself accused of killing her father.
Also in the cast are John Sutton, Jeff Corey, Frank Puglia, David Wolfe, Fritz Leiber, Otto Waldis, Leon Belasco and Ann Pearce [Anne P Kramer].
The sweet cast aside, the main attraction is Russell Metty's glorious Technicolor cinematography.
© Derek Winnert 2017 Classic Movie Review 5307
Check out more reviews on http://derekwinnert.com