Bad Santa 2 ** (2016, Billy Bob Thornton, Kathy Bates, Tony Cox, Brett Kelly, Christina Hendricks) – Movie Review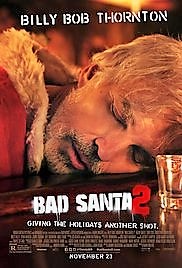 Billy Bob Thornton returns as Willie Soke from the 2003 hit Bad Santa, and teams up again with Tony Cox as his angry little sidekick Marcus Skimore to knock off sexy Diane (Christina Hendricks)'s Chicago children's charity on Christmas Eve.
This time it's more Dirty Santa than Bad Santa as the raucously filthy, non-PC jokes pile high. Brett Kelly also returns as the now 22-year-old Thurman Merman, but happily just as infantile as ever, and all three of the stars are just as creepy and, arguably, amusing as before. They are very skilled performers, with Thornton a unique star.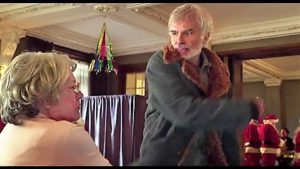 In a huge, difficult-to-pull-off role, Kathy Bates does her damnedest to make Willie's outrageous psycho monster mother Sunny Soke funny, and often actually succeeds. Bates is of course an Oscar winning actress, but it takes all her skills to the limit to try to make Sunny funny. However, it is great that the character never softens. You know, it would be nice to see Thornton and Bates is somethng serious together.
The problem with the film is the script, as Johnny Rosenthal and Shauna Cross's screenplay is nowhere near as witty and funny, or expertly toned, or accurately aimed, as the precision original by Glenn Ficarra and John Requa. The other problem is also the direction, as Mark Waters's helming seems just brisk and professional compared with Terry Zwigoff's quirky original work in 2003.
It is rated R for crude sexual content and language throughout, and some graphic nudity, and a UK 15, which must have been a thing close thing, for there are many jaw-droppingly dodgy moments in the queasy-making movie. It does seem designed for sniggering teenage boys, but it was mainly the 20something girls in the cinema who were laughing.
© Derek Winnert 2016 Movie Review
Check out more reviews on http://derekwinnert.com