Baby Face Nelson *** (1957, Mickey Rooney, Cedric Hardwicke, Carolyn Jones, Chris Dark, Ted De Corsia, John Hoyt, Anthony Caruso, Jack Elam) – Classic Movie Review 5906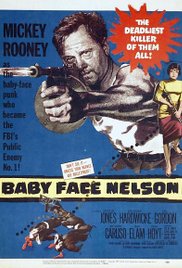 'Don't see it unless your nerves are bullet proof!' Director Don Siegel's sizzling 1957 gangster thriller and crime biopic provides a great part for Mickey Rooney in a career-changing role.
Unlikely though Rooney is as Lester M 'Baby Face Nelson' Gillis, he proves surprisingly well cast and rises to the occasion as the ruthless and crazy Thirties Chicago gangster of the title, who murders his gang boss Rocca (Ted De Corsia) and shacks up with his lover Sue (Carolyn Jones). He terrorises the landscape in a series of brutal robberies, allying himself with John Dillinger.
Thriller expert Siegel works little miracles on producer Al Zimbalist's small budget ($175,000) and Siegel throws in lots of crazed, well-staged action of bank robberies, killings, heists and prison breaks, moving along a short (85 minute) movie at a cracking pace. He encourages solid performances from a classy support cast of B-movie favourites.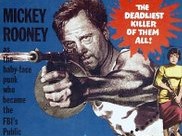 Even if Irving Shulman's story is unfactual, or fanciful if you like, Daniel Mainwaring's and Shulman's screenplay is persuasive, and Rooney's portrayal is accurate. And this is a suitably tough and feisty gangster movie, with that good support cast to help out (Cedric Hardwicke as Doc Saunders, Leo Gordon as John Dillinger, John Hoyt as Samuel F Parker, Anthony Caruso as John Hamilton, Jack Elam as Fatso Nagel, Dabbs Greer, Thayer David and Elisha Cook Jr as Homer van Meter).
Also in the cast are Robert Osterloh, George E. Stone, Lisa Davis, Emile Meyer, Murray Alper, Harry Antrim, Tom Fadden, Duke Mitchell, Frank Hagney, Gil Perkins, Paul Baxley, Dick Crockett, Christopher Dark and Sol Gorss.
It was condemned by FBI Chief J Edgar Hoover as glorifying crime and by California Representative H Allen Smith for promoting juvenile delinquency.
© Derek Winnert 2017 Classic Movie Review 5906
Check out more reviews on http://derekwinnert.com