Baby Face **** (1933, Barbara Stanwyck, George Brent, Donald Cook) – Classic Movie Review 5423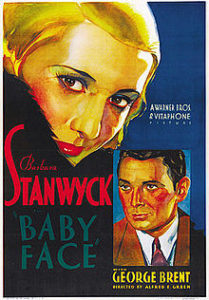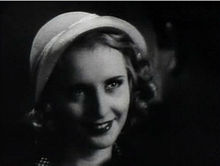 'She had it and made it pay!' Director Alfred E Green's controversial, even notorious, sexually provocative 1933 drama stars Barbara Stanwyck, alluringly costumed by Orry-Kelly.
Stanwyck is typically cast as Lily Powers, a pushy working girl ready to use her sex appeal, cheeky grin and posh frocks to hoick herself up from street life to flash social life via her new job in a trust company's stockroom.
Darryl F Zanuck, later producer and 20th Century Fox studio boss, was responsible for the original story (under his usual pseudonym Mark Canfield) that script-writers Gene Markey and Kathryn Scola turned into the incisive, once shocking script that compels attention, even if perhaps it is sometimes a little contrived and hollow sounding.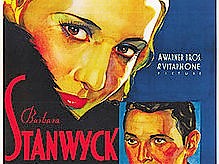 However, it is really the spiky acting from stars Stanwyck and George Brent, plus the fine support (especially Donald Cook, Margaret Lindsay, Arthur Hohl, Henry Kolker and Douglass Dumbrille) and the nimble, quick-moving direction that turn the movie into the compulsive class. John Wayne plays Jimmy McCoy Jr, one of Lily's early conquests. And it is the young Stanwyck at her best as a female sexual predator.
Sadly, Baby Face was one of the most significant of the films that caused the US Production Code to be enforced. The cut version runs  ute restored uncensored version, found in 2004 in a Library of Congress film vault in Dayton, Ohio, restores the vital scenes cut by the censors on its release. It premiered at the London Film Festival in November 2004.
© Derek Winnert 2017 Classic Movie Review 5423
Check out more reviews on http://derekwinnert.com