Away All Boats *** (1956, Jeff Chandler, George Nader, Julie Adams, Lex Barker) – Classic Movie Review 5903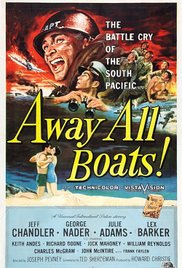 Jeff Chandler, George Nader and ex-Tarzan Lex Barker provide the beefcake muscle and Julie Adams the cheesecake glamour for director Joseph Pevney's 1956 Universal Pictures Second World War naval drama, focusing on the crew of a US transport boat in the Pacific 1943-1945 undergoing training by tough captain Jebediah S Hawks (Chandler).
Later, when attacked by the Japanese, everyone works in tandem to beat the foe.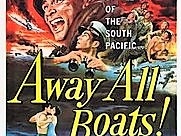 Skilfully directed by Pevney, it is nearly submerged by the script's insistence on absurd machismo and pro-American bias, turning it into something of a US Navy recruiting advert. Some of the dialogue and caracterisations sink under the weight of their cliches and clumsiness. But the sturdy acting and the lively and exciting action, when it comes, keep the movie afloat.
Ted Sherdeman writes the screenplay from the novel by Kenneth M Dodson. William Daniels and Clifford Stine shoot in attractive Technicolor and VistaVision.
Also in the cast are Keith Andes, Richard Boone, David Janssen, Charles McGraw (as Lieutenant Mike O'Bannion), Frank Faylen, Jock Mahoney, John McIntire, Grant Williams, Don Keefer and Clint Eastwood (uncredited corpsman).
Universal Pictures liked to sign up beefcake under contract. Along with the three stars there are also Jock Mahoney, Grant Williams, and Clint Eastwood aboard.
Nader may be second billed as Lieutenant Dave MacDougall but he gives a commendable performance and it is a big step-up from his star debut in the notorious 3D sci-fi Robot Monster (1953). His career would have gone much further if he had not agreed to be outed by Confidential magazine as gay rather than his friend Rock Hudson, and so was then relegated to B list actor.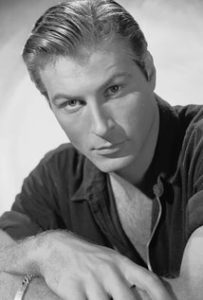 The 6′ 4″ Lex Barker (Sexy Lexy) was the star of five Tarzan movies beginning with RKO's Tarzan's Magic Fountain (1949).
© Derek Winnert 2017 Classic Movie Review 5903
Check out more reviews on http://derekwinnert.com