Autumn Sonata [Höstsonaten] ***** (1978, Ingrid Bergman, Liv Ullmann, Halvar Björk, Lena Nyman, Gunnar Björnstrand) – Classic Movie Review 4800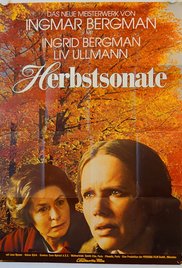 In 1978, writer-producer-director Ingmar Bergman found a surprise backer in Lord Lew Grade's ITC for his long-awaited teaming with his namesake Ingrid Bergman. At the time British producer Lord Grade was trying to finance some classy projects to put behind him the image of 'Low Grade' he was called by his detractors.
The screenplay is a typical Ingmar Bergman piece of talky Swedish gloom about emotional cruelty and unforgiveness, but it is talk and gloom of the first rank.
However, the revelation here is Ingrid Bergman, speaking (at least in the undubbed version) in her native Swedish, who gives a performance of quite remarkable depth as a successful concert pianist called Charlotte Andergast, who visits her estranged married daughter Eva, played by Liv Ullmann, in her home.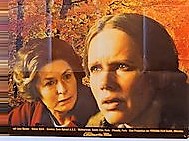 Charlotte, who has neglected her two daughters for many years, is surprised to finds her other daughter, Helena (Lena Nyman), also at the house. Eva, who is seeking her neglectful mother's love, has taken Helena out of the institution where Charlotte put her.
Making her last cinema film, Ingrid Bergman cuts to the heart with a knife as sharp as a surgeon's, while Ullmann also impresses. The film is Ingrid's triumph, yet look how much larger Ingmar's name is on the poster and how much larger Ullmann's face is in the image.
The film won the Golden Globe for Best Foreign Film and Ingrid was nominated as Best Actress. Both Bergmans were Oscar nominated, Ingrid as Best Actress and Ingmar for Best Original Screenplay. Ingrid also won the 1979 USA National Society of Film Critics Award for Best Actress.
Also in the cast are Halvar Björk, Gunnar Björnstrand, Erland Josephson, Marianne Aminoff and Arne Bang-Hansen.
Sven Nykvist is the cinematographer.
It was Ingrid's seventh and final Oscar nomination, with three wins, for Gaslight (1944), Anastasia (1956) – both Best Actress – and Murder on the Orient Express (1974), Best Supporting Actress. She was also nominated for For Whom the Bell Tolls (1943), The Bells of St Mary's (1945) and Joan of Arc (1948). Ingrid filmed only once after this, playing Golda Meir in the TV movie A Woman Called Golda (1982). She died on 29 aged 67.
© Derek Winnert 2016 Classic Movie Review 4800
Check out more reviews on http://derekwinnert.com