Austenland ** (2013, Keri Russell, J J Feild, Jennifer Coolidge) – Movie Review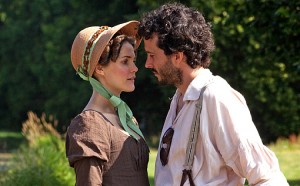 That good and appealing actress Keri Russell draws the short straw and plays an idiot American woman called Jane Hayes, who's obsessed with Jane Austen, Pride and Prejudice, Mr Darcy and Colin Firth in the BBC adaptation of Pride and Prejudice.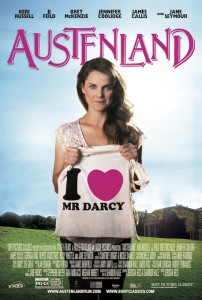 Nothing wrong with that, you say, but then she spends all her cash on travelling to a bizarre alternate reality (from the real reality, that is) UK, where there's a Jane Austen theme park, with a country house for her to stay in while she searches for her own Mr Darcy.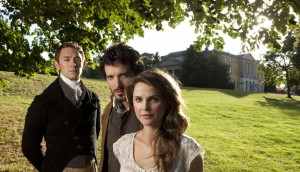 Turns out that there's a bunch of actors there, working to fulfil the romantic fantasies of silly Americans (and English women) and she unwittingly falls for one of them, the smug Martin (Bret McKenzie) on her way to true romance and love, of course. That would be with the handsome and proper Mr Henry Nobley (J J Feild), a real gent, even if it at first doesn't seem so.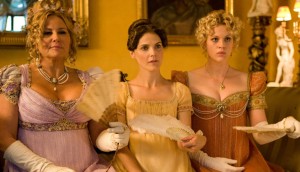 She also meets fellow romantics and fantasists Miss Elizabeth Charming and Lady Amelia Heartwright, the former a ghastly blowsy, sex-mad, love-starved American matron, the latter a pouty, stuffy, stuck-up English gel. I know these are meant to be caricatures (I think they are, anyway). But wouldn't creating actual characters have been better? Both roles utterly defeat good actresses, one of them one of my favourite funny women Jennifer Coolidge (for ever Stiffler's Mom in American Pie) and Georgia King from The New Normal.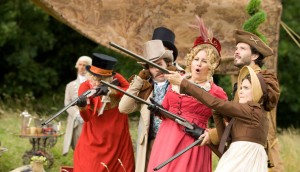 Based on Shannon Hale's novel, this is a horrible idea for a movie, stretching the Austen industry way beyond its reasonable possibilities. Sometimes horrible ideas can be developed into funny movies. I can't actually give you an example of this, but it might be true. This horrible idea stays horrible on screen, with unfunny situations following other unfunny situations and unfunny lines following other unfunny lines.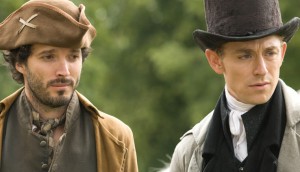 It says a lot that the star parts utterly defeat Russell (Dark Skies) and Feild too. It's co-written (with Hale) and directed by Jerusha Hess, in her feature debut. She co-wrote Napoleon Dynamite (2004) and Nacho Libre (2006) with her husband Jared Hess, back in the good old days, so the talent must be there somewhere.
Yes it's all totally harmless, but it's romcom hell. My advice is stay at home and get a book out and read Pride and Prejudice.
© Derek Winnert 2013 Movie Review
Check out more reviews on http://derekwinnert.com/