Attack of the Puppet People ** (1958, John Agar, John Hoyt, June Kenney) – Classic Movie Review 4346
John Hoyt stars in story-writer/ director Bert I Gordon's 1958 American International Pictures Sci-Fi movie with the familiar old tale about a mad, lonely scientist dollmaker called Mr Franz (Hoyt) who indulges himself with the terrible secret of designing a machine that shrinks people into Six Inches Tall Puppet People, especially grateful teens who don't want to go to school.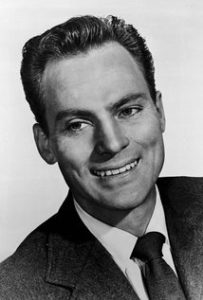 John Agar (1921–2002).
He shrinks his secretary Sally Reynolds (June Kenney) and her fiancé Bob Westley (John Agar), but the shrunken Bob demands to be made big again, and then everybody runs amok and takes their revenge.
There are and one or two effective scenes and quite a few more unintentional laughs to be had at the expense of this movie. But it is pretty shoddily made with mediocre performances and poor special effects, and it is mostly just a sequence of longueurs in between the campy fun moments. The idea was done better in 1936's The Devil Doll with Lionel Barrymore.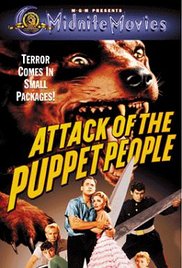 Also in the cast are Susan Gordon (the director's daughter), Michael Mark, Jack Kosslyn, Marlene Willis, Ken Miller and Laurie Mitchell.
Gordon is known also for War of the Colossal Beast (1958), The Amazing Colossal Man (1957), The Cyclops (1957), The Spider (1958), Beginning of the End (1957) and Tormented (1960).
© Derek Winnert 2016 Classic Movie Review 4346
Check out more reviews on http://derekwinnert.com